For those living in small homes, whether it's an HDB or a condominium, the bathrooms, in all their limited sized glory, can be a nightmare to design. To help you along, we dug around for a few small bathroom ideas from Singapore homes that you can work into your own space. Ranging from storage solutions to tile tips, these should help make your small bathroom great again.
1. A Long Recessed Shelf
Recessed shelves are suited as small-space storage, since they don't jut out, reducing hindrance and keeping things looking neat. But they do eat into your space, so you'll want to avoid designing ones that go too deep. Go long and wide, rather than deep, which can also help to lengthen your bathroom visually.
Design: Ascend Design
2. Stretch The Floor Tiles Up
Your floor tiles don't have to be restricted to just your flooring. By extending it up to your walls, you are essentially "stretching" your floor, giving the illusion of a more sizeable floor space. We love the pairing with thin, vertically laid wall tiles as seen below, which is another visual lengthening trick you can use for your small bathroom.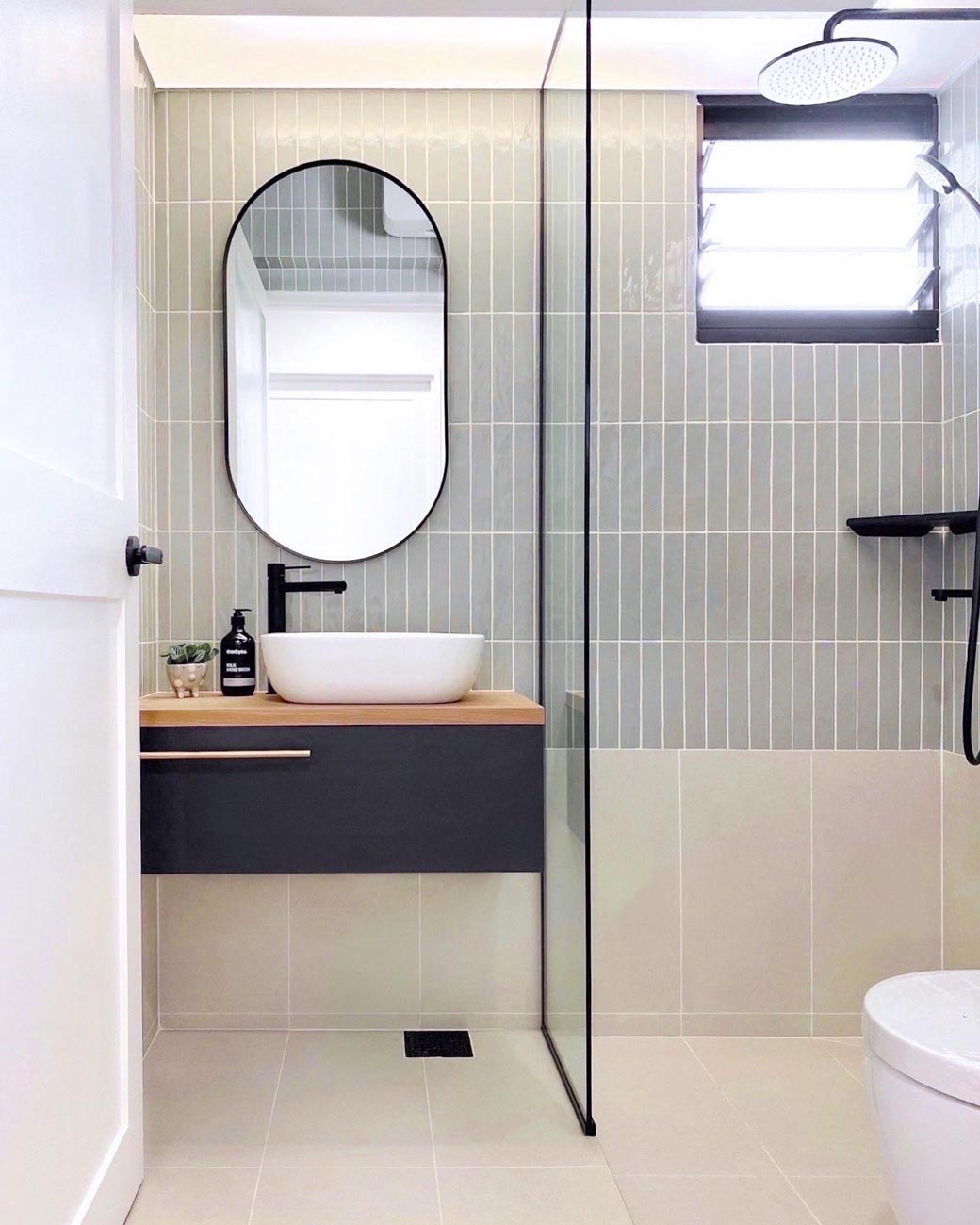 Design: Collate
3. Corner Vanity
By making the most of a corner in your bathroom, you can turn an otherwise unused nook into a practical space. The built-in vanity here doubles up on space whilst the rest of the bathroom is freed up for other uses.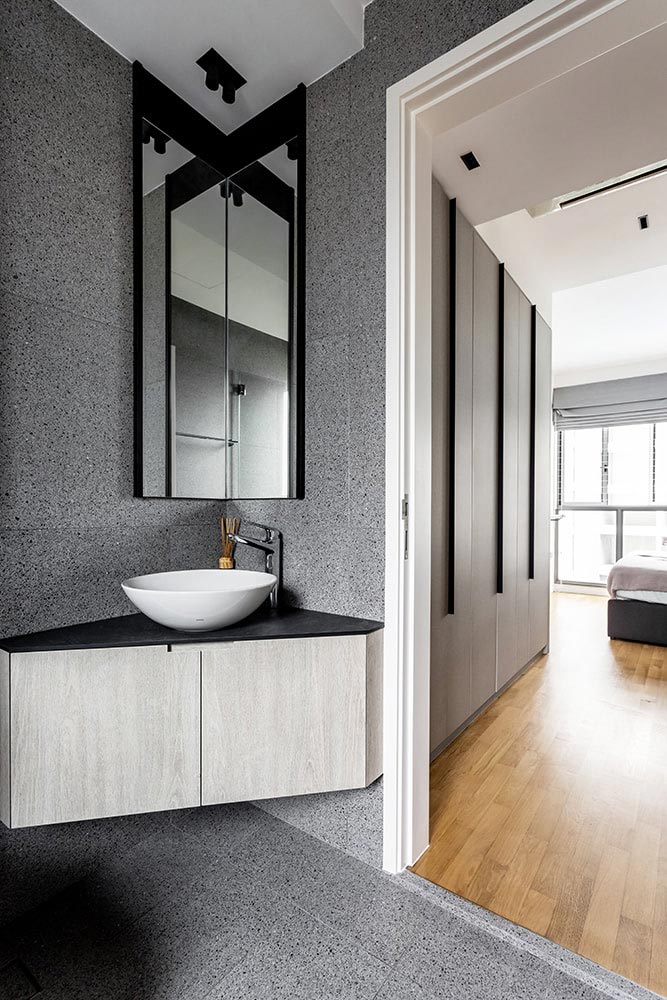 Design: Habit
4. Rounded Edges
Here's another corner bathroom vanity idea for a small bathroom. The curved edges aren't only a style factor, but they also help to draw out the vanity top for the vessel sink to sit pretty.
Design: Intr Studio
5. Glossy And White Tiles + Frameless Glass Screens
If you are looking for the best type of tiles for a small bathroom, you can't go wrong with all-white tiles with a bit of sheen. These help to bounce light around, so you space appears bigger than it really is. A frameless glass shower screen augments that bright, airy look. All-white too blah for you? Invite metallic, wood or stone in small accents to dress things up.
Design: House of Chais
6. Wet And Dry Bathroom Plus Open-Plan
The designer of this HDB flat moved the vanity area outside the confines of the original bathroom, separating it into a wet and dry one in order to make more room for a longer vanity counter with plenty of storage and a larger shower area. An open-plan was done up to draw a connection between the spaces and to open up the areas even further visually. It also resulted in the master bedroom looking just like a hotel suite.
Design: MET Interior
7. Personalising Under-Sink Storage
Not one to waste precious space, the designer of this apartment customised an under-sink storage drawer to work around the piping. The result? Extra space for more bathroom essentials and toiletries.
Design: Team Interior Design
8. Building Up
Without much room for storage in this small bathroom, the decision was made to build an open shelf unit from the base of the vanity counter all the way to the ceiling. While it took up some countertop space, the additional storage area the unit provided made it all worthwhile.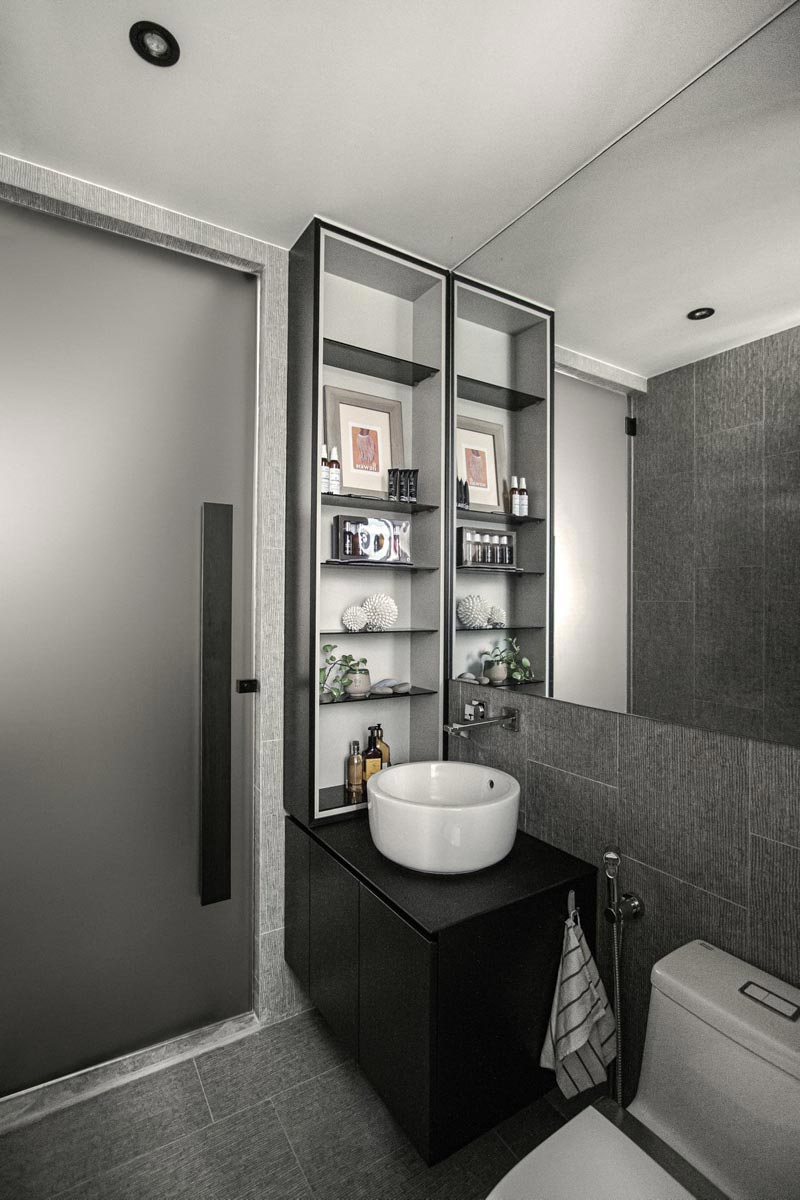 Design: UNO Interior
9. Large-Format Wall Tiles
As they say, go big or go home. Large-format tiles are ideal for smaller bathrooms because they are known to reduce grout lines and therefore reduce visual busyness, so things appear larger. Bonus: they are a lot easier to clean thanks to fewer grout lines. Keep the large-format tiles on walls though—the lack of grout lines on your bathroom floors reduces friction, so things can get more slippery and dangerous.
Design: Habit
10. L-Shaped Counter
Boost countertop space in a small bathroom by making use of that unused wall space and doing up an L-shaped counter. It also adds extra storage by the side. Open shelves save space, since you won't need to set aside room for doors. Use baskets and boxes as organisers if you want things to look pretty on the shelves.
Design: Charlotte's Carpentry
This article was originally posted on Renonation.sg, Singapore's leading renovation and interior design site.