If you want to increase your home's value, there are many exterior repairs to consider: from painting to porches and from gutter guards to landscaping. The tasks can seem overwhelming when you're renovating your home for resale purposes.
It's best to take a careful look at what you are starting with to help create a plan that is manageable.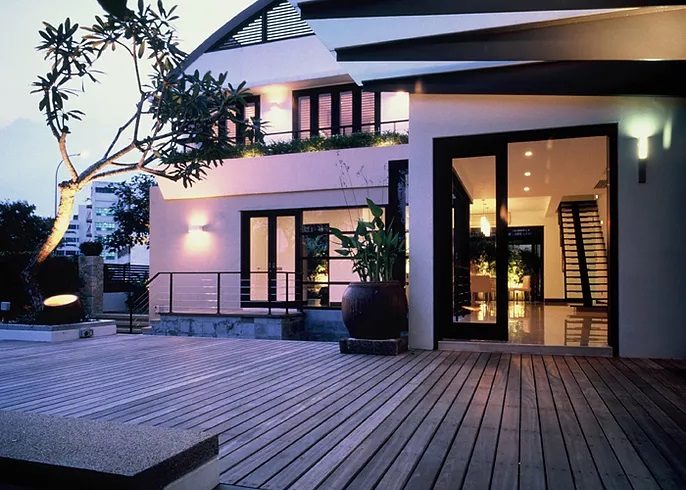 House done by CHH Construction System Pte Ltd
Our guide presents ten of the most effective exterior repairs that are certain to add value, beauty, and security to your home.
1. Tackle Small Repairs First
As an important first step, take a careful look at your home from all angles and take note of any small repairs that might have missed your attention.
Look for faded or dented siding, missing or broken shingles, peeling paint, and cracks in stepping stones.
Do a basic tidy of the yard in general, especially the area leading to your entryway and the area visible from the street.
Do a more careful trimming of hedges and check the driveway for any necessary repairs.
2. Paint or Replace Old Siding or Shingles
Brighten up the exterior of your home with a fresh coat of paint. Check with your realtor or your local hardware store and get professional advice about which paint colours are trending.
If your home has siding or shingles, they likely can be painted, but we advise replacing old shingles and siding with a fresh new look. Vinyl siding is a popular choice and is very durable.
Wood shingles appeal to many people and can look spectacular.
3. Replace Your Roof
Some homeowners hesitate to consider roof replacement because of the cost, but research confirms that roof replacement is one of the easiest investments to recoup when you sell.
Asphalt roofing is the most cost-effective, comes in many colours and styles, and is very durable. For a more dramatic look, consider metal roofing in corrugated steel or even copper.
Terracotta roofing tiles, wood shingles, and concrete tiles are also available and might be the best fit for your housing style.
4. Repair or Replace Gutters
Your gutter system is extremely important to the overall well-being of your home. Gutters and gutter covers protect your roof, walls, and foundation from water damage. They also add an appealing aesthetic to any home.
Consider including a leaf guard for gutters for added protection.
5. Let The Light In with New Windows
New windows can really transform the entire look of your home. Replace existing windows with your choice of vinyl windows or wooden ones. Both look great and add value.
Look for spaces that don't already have windows and consider letting in more light.
For example, adding a semicircular window, or another type of archtop, above an existing rectangular window, dramatically increases visual interest and beauty.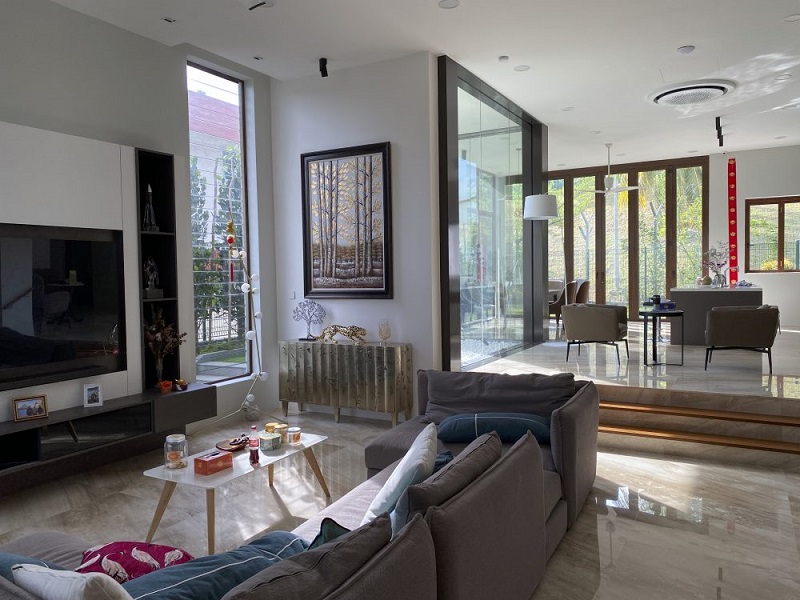 House done by Unicon Group Pte Ltd
6. Add Patio Doors
If you have a patio, deck, or garden, add a set or more of patio doors. These can open into a kitchen, a living room, or even a bedroom.
7. Build A Deck
Adding a deck increases the value of your home. Whether it is a large deck that wraps around like a veranda or even a small deck that allows for a bistro-style recreation space, a new deck breathes new life into your space.
Be sure to stain or paint the deck so it's not only inviting, but also offers excellent protection for outdoor weather. Ask an expert which sealant works best to protect decks in your area.
8. Invest In Landscaping
Nothing adds more beauty to a home than a garden. You can DIY many landscaping projects, or you can hire a landscaper to help make a more elaborate plan.
Look to the entranceway of your home, your patio area, and any spaces that are used for recreation. Those are the spots where landscaping pays off.
Add colourful flowers, plant lots of perennials, and consider large potted exotic plants for the porch area.
If you have the space for a water feature, this will also add value. Depending on your climate, consider rock gardens and eye-catching stone features for your landscaping.
9. Replace Existing Doors
Fresh new doors will add value to your home. Most importantly, the front door should be new and inviting. Consider a steel door, but if you decide to keep the door you have, painting it is essential. Potential buyers will be looking closely at the front door when they first arrive.
If you have a garage, it might be time to replace the garage door as well. If your budget only allows for repainting your doors, invest in new hardware for a more sleek and up-to-date look.
10. Add An Outdoor Living Space
People really are attracted to outdoor living spaces today more than ever before. This might be on your deck, on your patio, or even on a defined part of your lawn.
Think creatively about how to incorporate some recreational luxuries like an outdoor kitchen area, a hot tub, a pool, or a games area.
Decorate the space invitingly, add lights and some comfy outdoor furniture, and you have increased not only the value of your home but also the quality of life that it offers.
Conclusion
Completing even one of the above repairs will increase the value of your home considerably. Each offers an increase in curb appeal that is undeniable.
These strategies are sure to add to the delight and joy that you experience as a proud homeowner, whether you decide to sell or keep your home.
In addition, additions like new gutter guards, a new roof, or new windows add value even over time as you prevent damage and increase the overall security and longevity of your home.
Renotalk is the leading home & living platform that connects a thriving community of property owners with reliable interior designers, contractors, brand owners, and product merchants who offer a wide range of home improvement education, services and deals to make the building and designing process easier, more exciting and more affordable.