Are you about to decorate your living space and are looking for ways to bring natural elements into your home decor? If your answer is yes, you've clicked on the right article. We've prepared simple ways to invite nature into your home. From adding wall decoration to furniture – after you're done, your home will make you feel calm and at peace.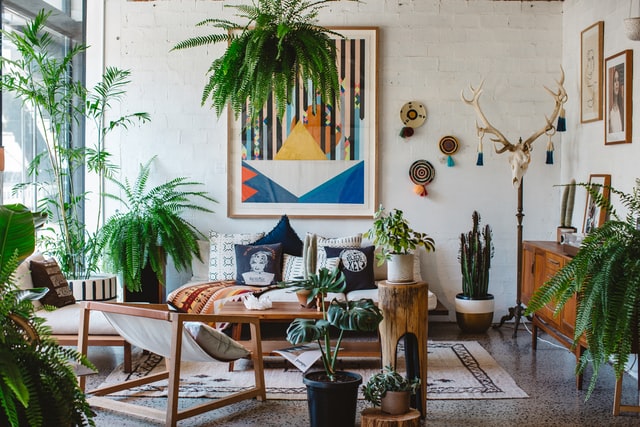 Photo by Luisa Brimble from Unsplash
Why Bring Natural Elements Into Your Home Decor?
We all know how spending time outdoors is beneficial for us. Why not then invite nature into our homes, too? Biophilic home design, or to put it simply, incorporating natural elements in our home has many benefits for both our physical and mental health. It can be as important as diet, exercise, and rest.
Here is how natural elements in our home influence our wellbeing:
• Physical Health Benefits – Incorporating biophilic design involves inviting more natural light and plants into our homes. We get vitamin D from sunshine, which is very important for our overall well-being. On the other hand, plants produce oxygen and make the air in our home cleaner and fresher.
• Mental Health Benefits – Have you noticed how serene and relaxed you feel when you're close to nature? The same happens when you add natural elements to your home decor. You will feel less stressed while your creativity and mental clarity will improve.
How To Bring Natural Elements Into Your Home Decor?
One of the most important lessons the COVID-19 pandemic taught us is the importance of spending time in nature. Being stuck at home made many people realize how much they miss the outdoors.
Even if you don't have access to a garden, you can still create a space to your liking. There are simple ways to decorate your home in a way that will make you feel closer to nature. As a result, your home will feel warmer and more welcoming.
If you are not sure how to achieve this, keep on reading as we've prepared simple but very effective ways to incorporate natural elements into your home design.
1. Let The Sunshine In
One of the easiest ways to implement natural elements into your home is simply opening your windows and letting the sunlight in. It will make your home feel brighter, airier, and fresher. Your house plants will enjoy it, too.
By letting more sunlight into your home and adding different house plants, you will make it feel more natural and inviting.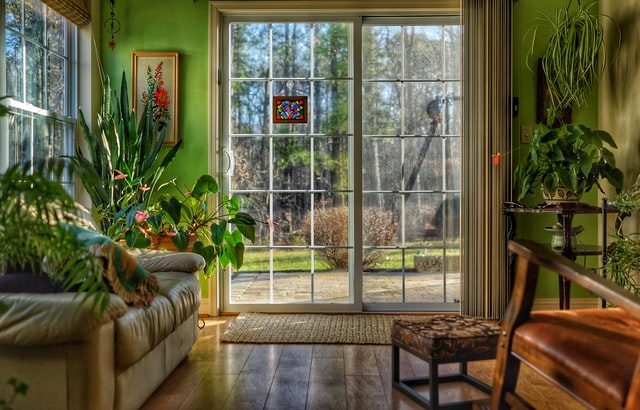 Photo by Edan Cohen from Unsplash
If you want to enhance the natural light, consider adding a tubular skylight. It brings in and reflects the sun's rays by using a tube connected to a dome on your roof. It's a great option, given that it's much easier to install than a traditional skylight.
Additionally, make sure to keep your windows clean and your curtains open. When it comes to rooms where window coverings are a must, such as bedrooms or bathrooms, consider adding light-coloured, sheer curtains. Also, try adding mirrors and other reflective surfaces to enhance the natural light even more.
2. Add Plants
The best way to connect with nature is to add different house plants to your living space. Besides simply looking beautiful, they also purify the air by removing toxins. You can even plant a small herb garden in your kitchen and always have access to fresh herbs.
If you think that taking care of plants requires too much effort, you'll be happy to learn that there are types that barely need any care. For example, succulents are low maintenance but still enough to liven up any space. Therefore, get rid of artificial plants and replace them with real ones. They are truly the closest thing to nature you can have in your home.
3. Exposed Brick Or Stone Wall
Exposed brick walls are very popular and a great way to incorporate natural elements into your home design. Bricks have been used for centuries to build various structures, and they remain popular to this day. It's no wonder as exposed brick walls look fabulous in almost any room. To give it a more modern appeal, paint your exposed brick wall in a colour of your choice.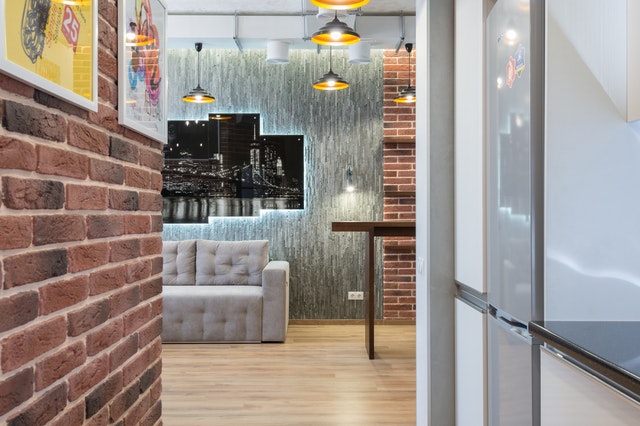 Photo by Max Vakhtbovych from Pexels
4. Find Room For A Water Feature
Another great way to connect your home with nature is to add a water feature. By adding water features to your home, you will also add to the relaxation and calmness.
For example, you can add a waterfall wall. A great place to install it is in your hallway, as you'll be able to create a smooth transition from outdoors to indoors. Plus, the soothing sound of water will make your entire home feel more natural.
5. Invest In Furniture Made Of Natural Materials
Wooden furniture is an excellent way to invite nature into your home. Not only is it beautiful and sophisticated, but it's also very durable. On top of this, you can find pieces to fit any style you choose.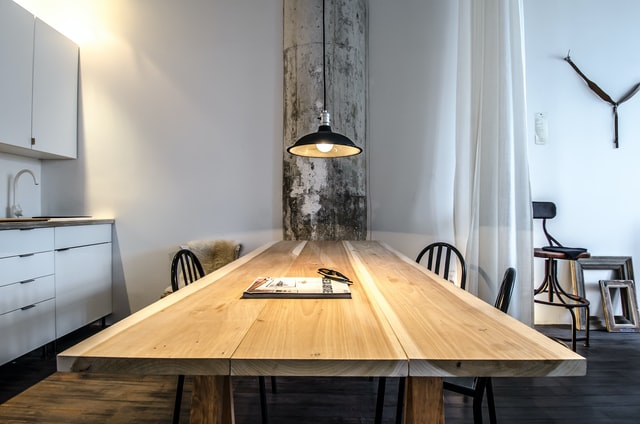 Photo by Chastity Cortijo from Unsplash
For instance, if you want to add a rustic appeal to your home, you can choose artisan-crafted furniture and design a perfect nook. Or, if you prefer a more contemporary look, you can find minimalistic pieces that make any room look stunning.
Another great way to incorporate wood into your living space is to add hardwood floors. On top of the quality and durability, hardwood floors give you a great return on investment if you ever decide to sell your home and move.
Connect With Nature
By connecting with nature, you will feel more relaxed, serene, and at peace. On top of this, your productivity and overall mood will improve, so we hope this article was enough to inspire you to bring natural elements into your home decor.
Renotalk is the leading home & living platform that connects a thriving community of property owners with reliable interior designers, contractors, brand owners, and product merchants who offer a wide range of home improvement education, services and deals to make the building and designing process easier, more exciting and more affordable.