We all want the best things and experiences for our kids. We want them to be happy, healthy, and satisfied. Most parents want to create nice kid's rooms that will be safe, comfy, and fun to spend time in. But as you probably already know, stuff for kids can be very expensive.
But not to worry! Many interesting and inexpensive ideas can make your dream come true, just like how RenoTalk's directory of interior designers can help bring your dream home to life. You get to create a perfect room for your kid even when having a lower budget. It won't make it any different from those expensive-looking rooms!
Image by Nguyễn Huy from Pixabay
1. Simplicity Is The Key
You may have noticed that simple things look more stylish and elegant rather than things rich in details. A black dress looks more beautiful than an expensive outfit with Swarovski crystals. A clear desktop looks better than the one covered with cute decor.
The same rule can be applied to decorating any room, including the child's room. Keeping it simple has more benefits than you would think:
Won't drain your budget.
Grants an opportunity to adjust the room decor as the kid grows.
Offers space for your child to play.
The clearer room seems to be bigger and comfier.
Start with the basics. Your kid needs a place to sleep, a space to store clothes, and a space to store toys. Use open shelves to store toys so they serve as decor. Which leaves you with choosing a bed and dresser or a drawer. Choose a neutral wall colour so it will be easier to adjust the decor in the future. Remember, light colours make the room seem to be more spacious.
2. Play Zone
What do kids love to do the most? To play and explore the world! You can offer space for your child to play and explore new things. You can find a cute bed with an unusual design which your kid can use as a playground. Or you can even consider buying or doing a DIY bunk bed.
You can find an inexpensive model with the bed on the upper side and empty space below. The empty space below can be used as a playground. It can be used by your kid in a multitude of ways – from creating a real fortress to using it as a lounge zone.
In the future, the space under the bunk bed can be used as a studying area – place a desk and your kid has space to do the homework. And just imagine how much space you can save by applying this idea.
Consider buying an inexpensive indoor swing. You can find a plain one, the cheapest, and then decorate it on your own. There are many DIY indoor swing ideas you can use, and the results are simply amazing.
3. Be Kid Friendly
You may think you are kid-friendly since you have a child, but the idea is to think from the perspective of a kid. You may want one thing, while your child loves totally different ideas. Imagine that you are a kid, and think about the things you would love to have in your room.
The advantage of this kind of thinking is that you, as a grown-up, have realistic ideas and are aware of the budget. But at the same time, you can figure out what your kid would love to see in the room. For example, create a DIY kid's wigwam as a place for your child to hide and play pretend.
Consider your child's interests. If your kid loves drawing, then consider a friendly budget table with low chairs for your kid to be creative. Place a cosy rug, one that is not too fluffy since kids can create a lot of mess. But at the same time, your little one will have a cosy spot to play with their favourite toys. There is a myriad of kid-friendly ideas to use.
4. Wise Usage Of Available Space
If the room is pretty small, there is no need to worry about if you are able to fit everything. Take a closer look at the room and figure out several best ways to use the available space. For example, if your ideal kid's room requires a place to sit, but you can't fit a sofa or even an armchair – then use the space under the window.
A windowsill can be replaced in favour of a cosy lounge place. Or think about your child's future – your child will grow up and have to go to school. That means homework, so consider installing a workspace surface that can be used by the child as a desk. It's a great idea since there is plenty of natural light so it will be more healthy for your kid to do homework.
Or use the idea with the bunk bed. As it was mentioned, you can install a bunk bed with empty space on the first floor. Place a desk and your kid has the space to do their homework.
Then again, if you are planning to have a second child, the room can be used by two kids if you adjust the bunk bed and install a second bed on the first floor.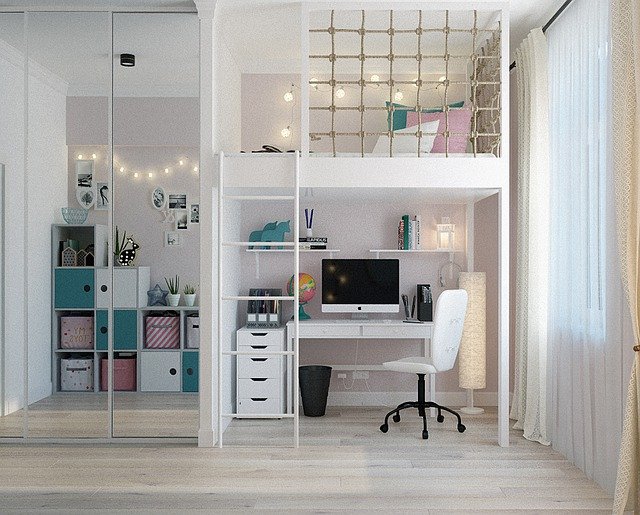 Image by Victoria_Borodinova from Pixabay
5. Magic Decor
The whole world is magical in the eyes of a child. So help your child use their imagination! When decorating the room, use simple LED fairy lights. They are inexpensive, but make the room cosy and create the needed magic.
Or use glow-in-the-dark stickers. These stickers are inexpensive but create real magic in the room.
You can also create fairy lights of simple glass jars and LED lights.
6. Storage
Storing clothes, toys, and many other objects can be tricky. You definitely want to keep the room clean, so storage is important since that's where you are going to put all the excess objects.
Monitor different options, not just drawers or dressers on Amazon, furniture stores, and similar websites. Consider ordering a specifically designed closet.
It might be even less expensive to order a specifically designed closet that will contain all of your bedroom things. But if that option exceeds your budget, consider closets that reach the ceiling. Every inch is important, and you can save up a lot of space when using tall drawers or closets rather than wide ones.
7. Colours
We know kids love colourful stuff, but when they grow up, tastes may change.
A good middle-ground for your child's bedroom interior is to use pastel colours, using white colour as the main, and bright colours as decor/accent. For example, white walls and light pistachio furniture, but with brightly coloured furniture and decor.
The idea is to use furniture and decor of bright colour, but only if you plan to replace them in the future. Decor pieces under this category include the bed frame, toys, puffs, etc. In the future, it will be a lot easier to adjust the room depending on your child's tastes.
Conclusion
Decorating a kid's room can be a fun and relatively inexpensive process if you plan carefully. This article has only a small portion of ideas. In fact, you can have many ideas that you can sit down and discuss with your child.
~
Author's Bio: Sandra Manson is a passionate journalist who has been contributing to major media publications. She enjoys writing about human psychology and lifestyle. Sandra also runs her blog datingjet.com where she covers topics of great interest in modern society.
Renotalk is the leading home & living platform that connects a thriving community of property owners with reliable interior designers, contractors, brand owners, and product merchants who offer a wide range of home improvement education, services and deals to make the building and designing process easier, more exciting and more affordable.