Your home carries a lot of special sentiments for you. So you may want it to look its best. You can ensure this with excellent interior designing.
However, getting interior design services from renowned designers can be a costly affair. But this is the 21st century with technologies like the best interior design applications.
To make it more cost-effective, along with eye-catching designs, the utilization of these apps proves to be highly rewarding. Any mobile app development company today can build sophisticated and appealing apps with a team of expert developers and designers. So whether it is a new home, garden landscaping, or just an extension, you can design the interiors of your home professionally with these apps.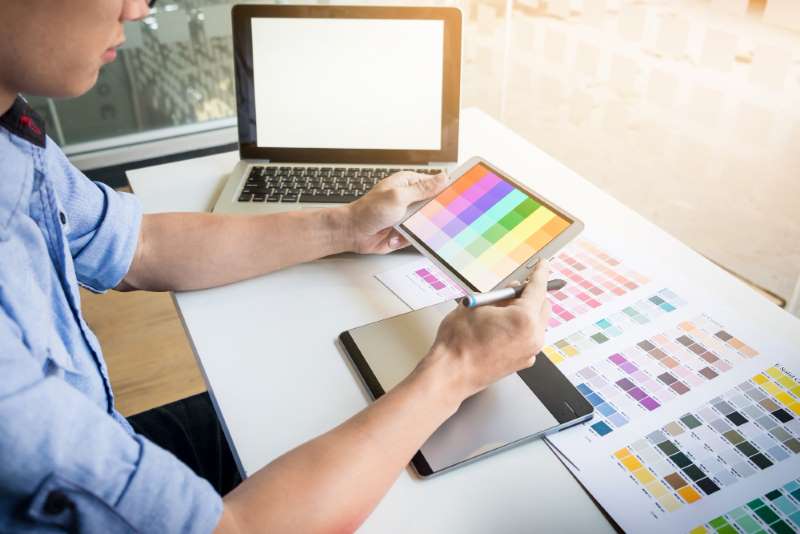 Pattern photo created by snowing – www.freepik.com
Today's technology has made our lives convenient and comfortable in every way possible. Whether you are working on home renovation projects or even using tools and software for your own new house, there are the best free interior design apps for that. Highly user-friendly and easy to use, these can help you decorate homes easily. Here are 7 of the best interior design applications of 2021:
1. Floorplanner
Floorplanner is highly popular amongst interior design apps. It gives you the liberty of designing your home space in 3D and 2D online. There is no need to even download the software.
The interior decoration functionality of the app is enriching in every way but the real strength of the app is its floor planner functionality. After floor plan completion, it is possible to switch the view and embellish your home in 3D mode. Even if you are a beginner, you can easily use the app.
2. Hutch
Hutch can fulfil your interior design requirements by enabling the option of virtual furnishing of rooms. In the app, you can upload classy design images for homes and get the exact look for your interiors in real view.
It is possible to choose the look that appeals the most to you. The app incorporates a unique photo technology that identifies the structure of your space and positions products within it. Furniture shopping becomes a lot more fun with these kinds of apps.
3. SketchUp
The best all-inclusive 3D design interior design app today is SketchUp. This home designing tool is highly robust where it will immerse you into your interior design idea while giving you the feeling of working with paper and pen.
If you just want to play around with designing home interiors, you can go with the free version. But if you are a professional in the construction and architecture industries who needs to visualize their ideas clearly, the pro version is the most suitable one. From building a simple treehouse to a home extension, SketchUp's technology will help you bring your ideas to life.
4. Chairish
When it comes to selling or purchasing pre-owned and superior quality décor, one of the best interior design apps on the web is Chairish. As a seller, you can easily upload furniture photos to the app. Following this, the curators of the app decide the products that they will place for selling.
The app manages the disbursement, delivery, and returns for every sale. You can list products for free and also get to keep 80% of the concluding sale. If you want to buy, you can always purchase products from brands like Ligne Roset, Knoll, B&B Italia, Herman Miller, etc.
5. Planner 5D
The popularity of virtual interior design apps like Planner 5D is rising fast. Such apps will give you an amazing immersive experience. Here you can discover interior designs as if your feet were virtually or practically on the ground.
The app lets you either begin from scratch or utilize a template that is ideal for amalgamating a floor plan. This is perfect if you are running short of time or looking for less complex designs. The software works seamlessly on iOS that means while you are on the move, it is possible to create design plans on the iPad.
6. Rooomy
What if you could visualize the interior designing concept that you have in your mind? It will be convenient to have a quick look at how your selected furniture will look. With an app like Rooomy, you can have that convenience as Rooomy can convert 2D images into 3D deliveries.
Whether you are a designer or a homeowner, this app will make interior designing seamless. You can envision varied configurations of furnishings and art in a particular space. There are even direct website links to renowned retailers where you can shop for the ideal pieces.
7. BrightNest
Snatching the title of the best free interior design app, BrightNest functions as a custom-made reminder system for users. The app reminds homeowners about the maintenance chores that they sometimes forget. This includes altering the batteries of smoke detectors, etc.
The app also presents a questionnaire to users for curating the DIY, maintenance, cleaning, and design tips according to users' needs. This app functions on the iOS platform as well.
Final Say
Got so many interior design ideas in your head but finding it difficult to bring them to life? Don't fret, as there are many interior design apps out there as seen in this article.
Features such as the ideabooks feature, an option of purchasing stimulating products, various themes and layouts, and the option for 3D or 2D views are what makes these apps so popular these days. You can even DIY while using these interior design apps. You can even build an app with professional assistance from a mobile app development company. In the current era, anything and everything is possible. 
Renotalk is the leading home & living platform that connects a thriving community of property owners with reliable interior designers, contractors, brand owners, and product merchants who offer a wide range of home improvement education, services and deals to make the building and designing process easier, more exciting and more affordable.