If you live in a small apartment, you know how important it is to make the most out of every space. Decluttering, buying multi-functional furniture and optimizing your storage space are all great ways to keep your space from feeling cramped.
However, finding the perfect balance between design and functionality can be difficult if you have a large book collection.
Fortunately, there are plenty of options for safely storing books in small spaces that are both functional and visually appealing. Keep reading to discover creative book storage ideas to show off your collection.
1. Use a Faux Fireplace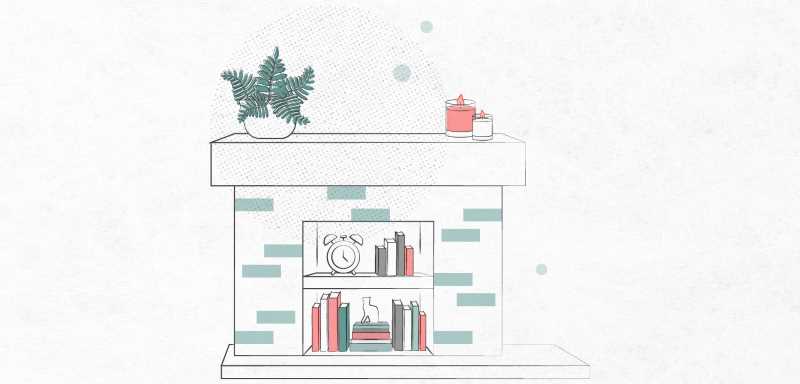 Image © Apartment Guide
Some homes and apartments come with faux fireplaces instead of real ones. If your faux fireplace is purely decorative, consider turning it into a space to store your books. Adding a shelf or two to the open space inside the fireplace will instantly turn it into a bookshelf without taking up extra space in your apartment. For an extra touch, consider displaying books with covers that fit the fireplace's colour scheme.
2. Store Books Under Your Coffee Table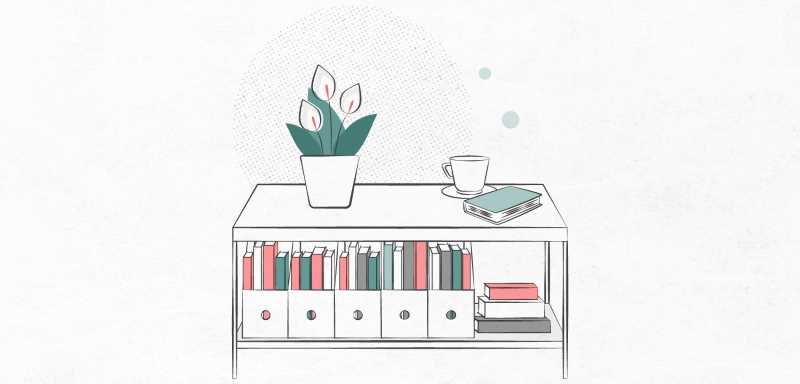 Image © Apartment Guide
Coffee tables with shelves are great for storing extra books. Try adding cubbies or book dividers to the space underneath your coffee table to keep books upright and prevent them from sliding off. It's the perfect way to keep books safe from spills, and you'll have easy access when you want to curl up with your favourite book.
3. Create a Bookshelf Room Divider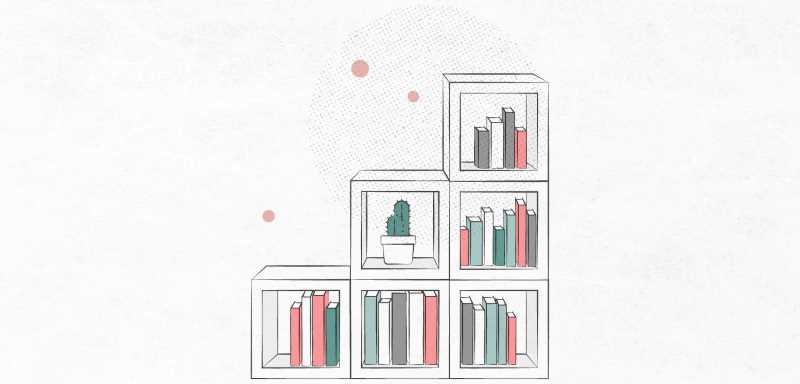 Image © Apartment Guide
If you live in a studio apartment or share a room with someone, investing in a room divider can help break up your space. Bookshelves work great for this since they're sturdy and come in a variety of styles and sizes. Try using etagere shelving for a more open look, or invest in standard shelving to create a solid wall of books.
4. Store Under a Bench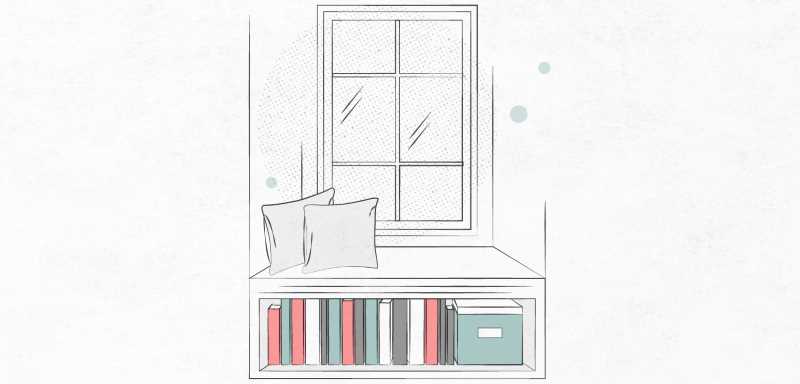 Image © Apartment Guide
Storage benches with spaces underneath are another simple and stylish option for storing books in small apartments. If you have a bench under your window, toss a cushion on top to turn it into a cosy reading nook or decorate it with your favourite plants to complete the look.
5. Create a Headboard or Baseboard Bookcase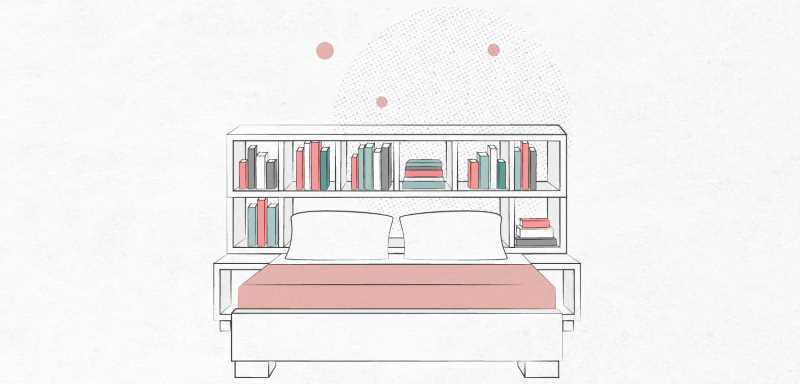 Image © Apartment Guide
If you like to read before bed, try creating a literary headboard or baseboard. Simply add books to the shelves on your current headboard or invest in a long, short bookshelf to place at the foot of your bed. You can also buy a headboard bookcase if you are looking for an upgrade.
6. Use a Leaning Ladder Shelf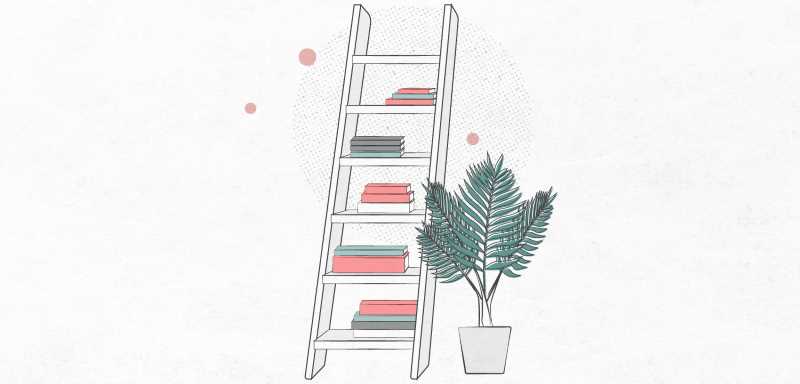 Image © Apartment Guide
Leaning ladder shelves are a popular choice for small spaces. They are fairly simple to install, and they don't take up a lot of space. Try turning the whole thing into a bookshelf or combine your book collection with other decorations and collectables. Fairy lights and throw blankets are both popular choices. You can repurpose an old wooden ladder for a more rustic look or buy ladder-style shelving from a furniture store.
7. Hang Floating Shelves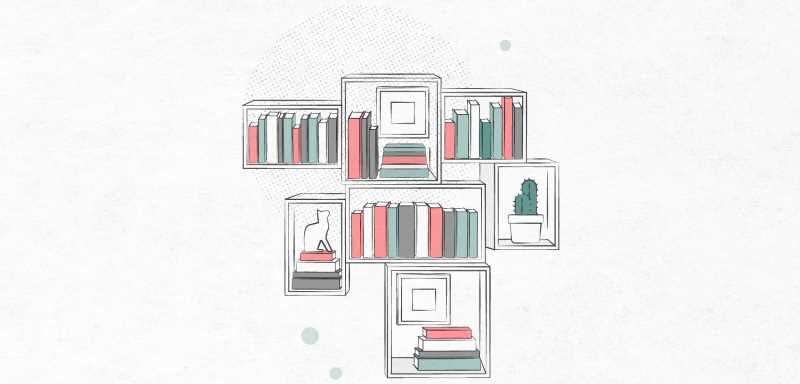 Image © Apartment Guide
When you run out of floor space, consider adding floating shelves to your walls. You can buy pre-constructed sets that come in various shapes and sizes or create your own design out of individual shelves or boxes. They're a practical alternative to traditional bookshelves, and the book's covers can add a splash of colour to your walls.
8. Decorate With Simple Book Stacks
Image © Apartment Guide
While a stack of books sounds like it would get in the way, simple book stacks can be functional and stylish if you put enough thought into their placement. Pick a spot on an end table or other unused surface, and create a stack with the largest book on the bottom and the smallest on top. To add to the visual appeal, try choosing books that compliment each other or add a decoration to the top of the stack.
Small apartments often come with limited storage space, but that doesn't mean you have to give up your book collection. Creating space to display your books will give you the chance to show them off and keep them safe from damage.
If you need the ultimate tip on letting your books thrive in your small apartment, see Apartment Guide's infographic below for more storage options and special care tips. 
Renotalk is the leading home & living platform that connects a thriving community of property owners with reliable interior designers, contractors, brand owners, and product merchants who offer a wide range of home improvement education, services and deals to make the building and designing process easier, more exciting and more affordable.