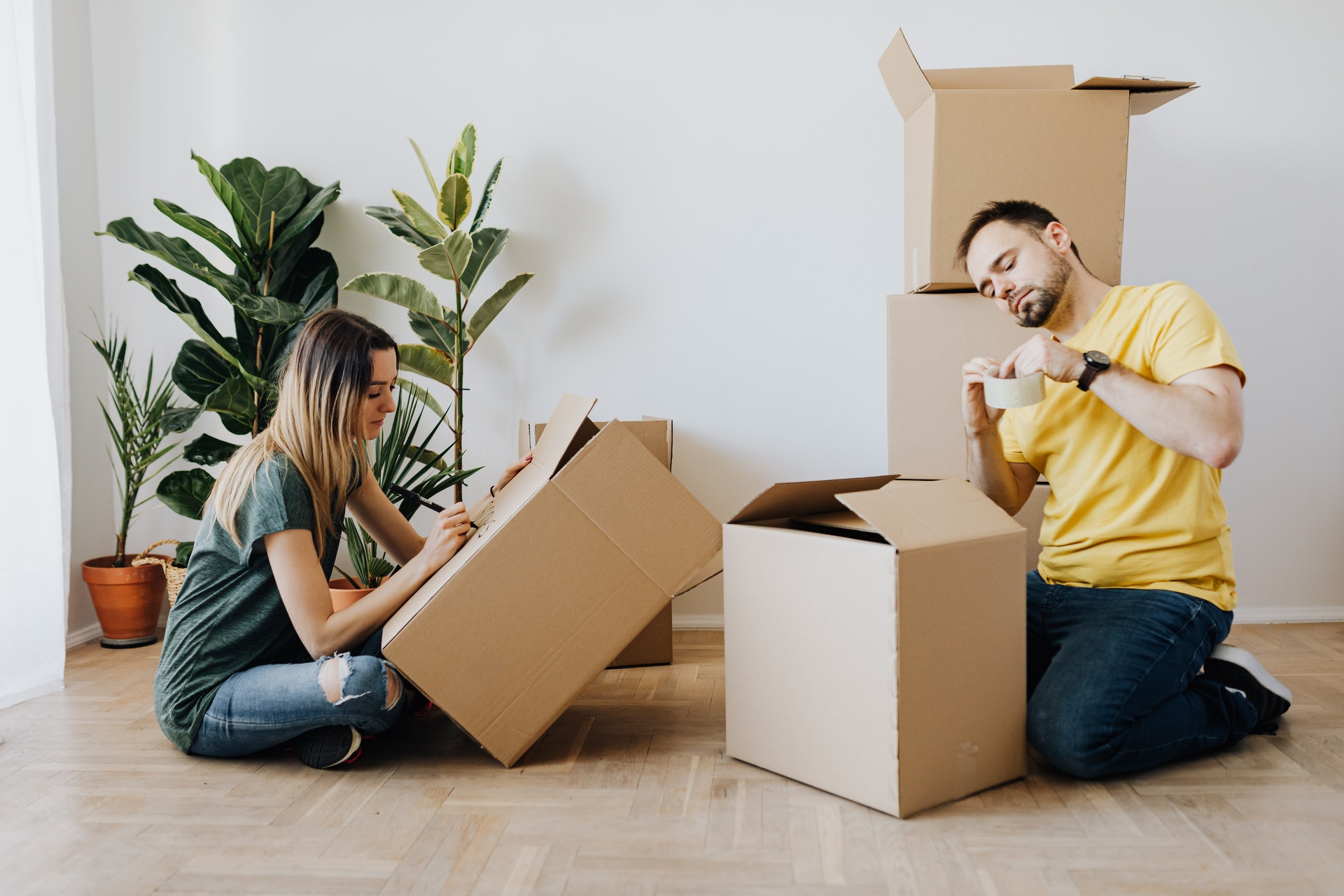 Featured image.
Alt-tag: A woman and a man sitting on the floor labeling and taping cardboard boxes.
Basements, both finished and unfinished, tend to become the go-to storage spot for everything – from holiday decorations to old hand-me-downs. Keeping a few miscellaneous items downstairs isn't a problem. However, if the number of items grows and the situation escalates, you will be left with an unusable space that is hard to tackle. This is where the task of organizing becomes extremely useful. Basement organizing doesn't have to be limited to naturally organized individuals who have a knack for keeping things tidy. Our eight easy but effective basement organization ideas will help you make your home truly your own by utilizing all its space.
1. Declutter to save space and money
Depending on your circumstances, decluttering may not be the easiest task. However, it yields many benefits. Having fewer items in your storage will save money on boxes and their upkeep. Furthermore, you will free up space in your basement for stuff you may want to store in the future.
Determine which items you want to keep in your basement. The best way to do this may be to place all items in one pile or room, away from the basement. This way, you will be less likely to bring many of the items back into the basement since that will require a fair bit of effort.
Caption: Carefully examine each item before deciding whether or not to keep it.
Alt-tag: A woman looking through some cardboard boxes.
2. Organize possessions wisely
Once you are sure of the items you wish to keep, it is time to organize them. This should be done in a way that suits you the most. If you want to, you may categorize each item based on some attributes like clothes, appliances, and mementos. Alternatively, you might use another form of classifying to help you organize your basement.
Afterward, you may prepare these items by cleaning them or folding them. This allows you to take items out, such as curtains, and utilize them immediately without worrying about their current state. Finally, take measurements of your basement and plan out a layout by using remodeling applications or doing it the old-fashioned way.
3. Make sure your basement is ready
Among the many basement organization ideas, one of the most important ones is to prepare your basement. Having a proper place for your items to call home will protect their current state, as well as give you some peace of mind.
Although most basements are damp and prone to mold and mildew, you may still remedy or combat the problem in various ways. Repair any leaks, use a humidifier, insulate your water pipes, or store your belongings in airtight containers. Give your basement a thorough cleaning and a fresh coat of paint to truly transform this useful space.
Caption: Some basement organization ideas are as simple as they can be – start with a clean space.
Alt-tag: Someone vacuuming an empty white room.
4. Choose appropriate bins for your basement
When it comes to your basement, you'll need to prepare adequate bins like you would when renting storage. Choosing the right boxes for self-storage makes all the difference, as your items can stay safe once you have the right containers. Your preferences determine the color and style of these containers. Most people prefer clear, see-through containers to have a clear view of the items inside. However, you may prefer labeling them for a cleaner and more transparent look. Additionally, you can keep an inventory of the items in your basement. This will reduce the chances of thinking something is lost while it's safely tucked away in your basement.
5. Use all the empty spaces you can find
As you may already know, space is a limited resource you must use wisely. You may assume numerous areas are inconvenient or unusable, but you could be surprised by the creative solutions people have devised to make them perfectly functional. For example, you may better utilize the space under your stairway by having built-in storage for your belongings. On the other hand, if your ceilings are high enough, you may even use this space to store even more items. Make use of space-saving furniture whenever possible and have more room to work with in the future.
6. Understand the value of vertical storage space
It would be hard to discuss underutilized space and basement organization ideas without mentioning the usefulness of vertical storage space. You will acquire extra floor storage and lower the possibilities of your belongings being destroyed by a possible flood by utilizing the vertical space you already have and decreasing the number of objects left on the ground. Don't worry – these storage options can also be stylish solutions. For example, you could use a pegboard or a beautiful but heavy-duty hook to hang some of your valuable DIY items or tools.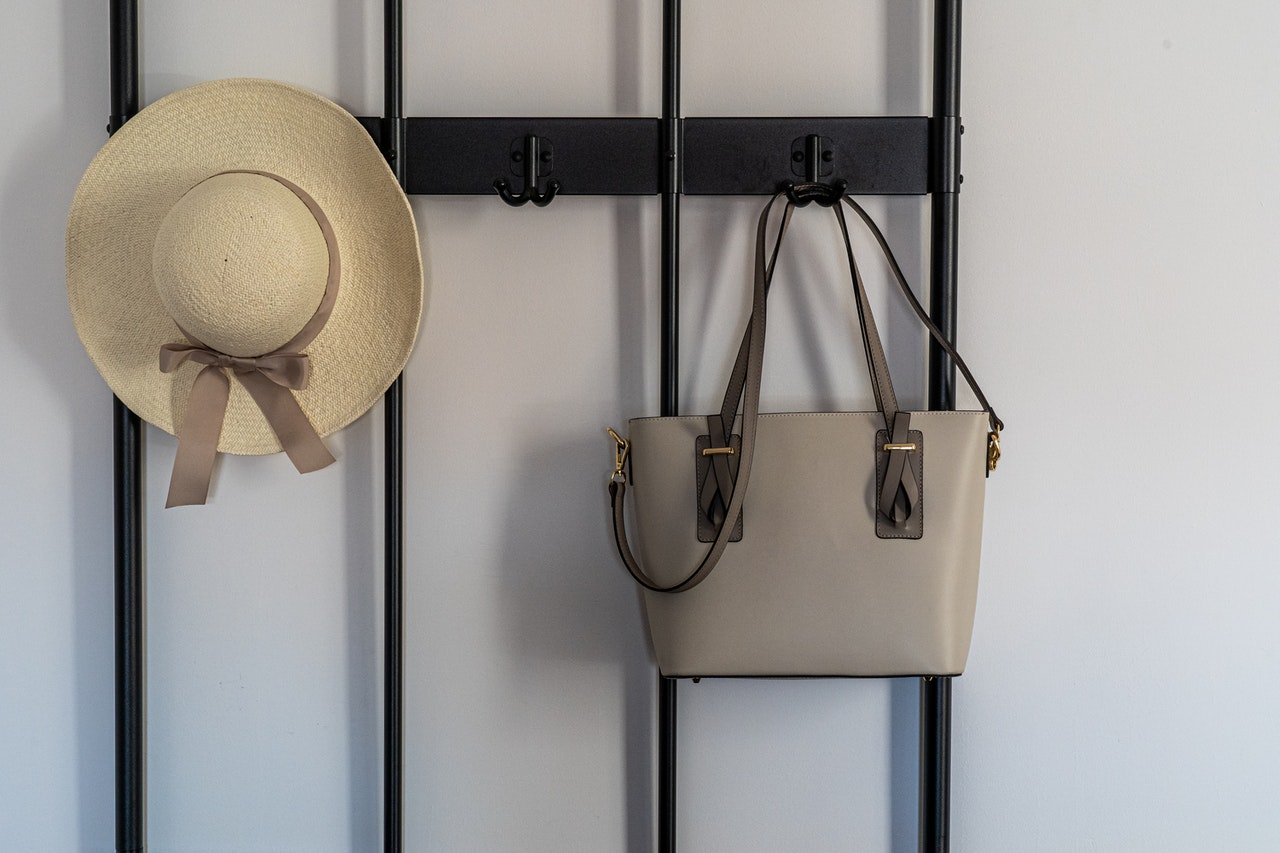 Caption: Hooks are a cheap but effective way to utilize your vertical space.
Alt-tag: Hooks with a hat and purse on them – one of the best basement organization ideas.
7. Get crafty with storage options
Remember to be crafty and creative with the storage options in your basement. Place old cabinets in your basement, for example, to give them a new purpose while also providing you with more space to properly store your items. PVC pipes can be used to store craft paper, while clothing rails can be used to store old clothing. If you have an old trolley that you don't use, it will come in handy for storing stuff in the basement that you can take with you wherever you go. Furthermore, multifunctional furniture can help you make the most of every square meter of your basement.
8. Add custom furniture if possible
Although incorporating old furniture into your basement might be beneficial, it is best to obtain custom furniture for tight and difficult-to-use spaces. Even if you've followed the previously mentioned basement organization ideas, you may need extra help fitting items into such spaces. Luckily, there are many solutions to this problem. Built-in storage options are great since they fit the room perfectly. However, a simple but customizable shelving system can do the trick as well. Additionally, you may build your own storage options if you're crafty enough and want to do so. These will ensure you are left with plenty of space for your precious belongings.
Photos used:
https://www.pexels.com/photo/content-couple-packing-belongings-into-carton-boxes-4506258/
https://www.pexels.com/photo/thoughtful-young-lady-packing-clothes-into-boxes-during-relocating-7203816/
https://www.pexels.com/photo/modern-vacuum-cleaner-washing-floor-in-flat-4792771/
https://www.pexels.com/photo/black-metal-hook-hanging-a-beige-hat-and-grey-sling-bag-3682236/
Request for quotes and we'll match you with a selection of Interior Designers!
Renotalk is the leading home & living platform that connects a thriving community of property owners with reliable interior designers, contractors, brand owners, and product merchants who offer a wide range of home improvement education, services and deals to make the building and designing process easier, more exciting and more affordable.