If you are a sports fanatic, professional player, or hobbyist, incorporating your passion for recreation into your home design can make for an exciting renovation project. However, walls splayed with poorly-printed posters and tacked-up jerseys can limit your appeal instead of enhancing it.
Whether you are upgrading your ageing property or building a home from the ground up, making deliberate choices with the help of a professional designer can add class to your aesthetic. In this guide, you'll learn about how to integrate your love for sports into your renovation project.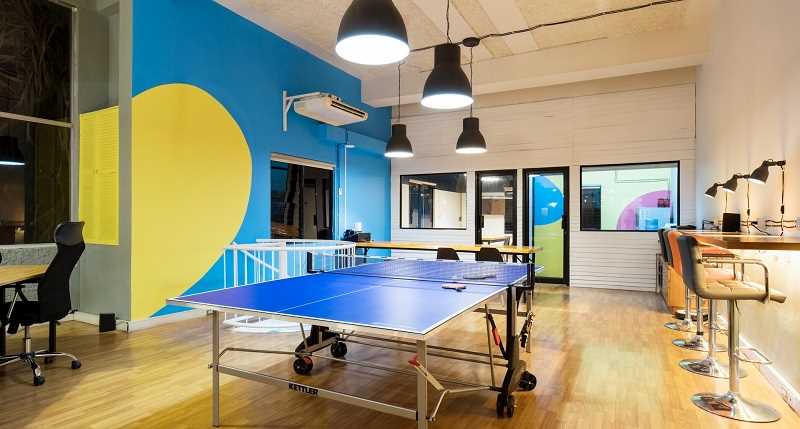 Photo by Slidebean on Unsplash
1. State-of-the-Art Home Theater
If you adore the cinematic effect of watching sports on a large flatscreen television, why not upgrade your media centre into a full-blown home theatre? On average, sports fanatics worldwide spend up to 60 million hours a week watching their favourite athletes on screen. Thus, a dedicated viewing room can significantly improve your experience.
A simple home theatre will require a flatscreen television or projector system, surround-sound speakers, and a comfortable lounge. If you want to achieve an authentic theatre feel, consider putting up blackout curtains to dim natural light during the day.
Before going on a furniture spree, ensure that you measure every inch of your dedicated space. You want to leave enough room to accommodate other sports fanatics—especially during a home game. There is no bigger bummer than purchasing the flatscreen of your dreams, only to realize it'll barely fit through the door!
2. All-Inclusive Home Gym
If you are a practising athlete, having to travel miles out of your way to hit the gym can disrupt much of your day. The good news is, you can easily cut your commute short by building an indoor or garage gym.
Contrary to popular belief, you don't need a full slew of expensive equipment to achieve a sufficient workout. If you're renovating on a budget, pull-up bars and adjustable weight systems can help you get into shape. Could your flexibility use a little bit of work? A yoga mat should suffice.
If you are a golf fanatic, an easy way to up your game is to purchase an indoor putting green. Golf enthusiasts with a little more cash to blow can invest in a simulator, which you can use to recreate legendary courses in 4K!
3. Outdoor Activity Center
Do you prefer the great outdoors? What if you could walk into an outdoor fitness haven without having to leave your home? Outdoor activity centres with above-ground pools, mini football pitches, and putting greens can add significant value to your property. Plus, it's an excellent way to entertain guests.
If you have a little more room to spend, artificial turf is a low-maintenance putting surface that you can enjoy rain or shine. Compared to natural grass, you won't have to worry about weeding, watering, or fertilizing.
Does your dog enjoy being in on the fun? You'll be surprised to know how many mascot-themed dog houses are available for purchase online!
4. Memorabilia Display
Let's face it—a printed poster from a gift shop isn't the best way to compliment your home aesthetic. Bulletin boards aren't going to cut it either. Instead, you can professionally frame memorabilia such as tickets, certificates, or photographs from significant events without losing value or sophistication.
Alternatively, you can commission an artist to create wall art of your favourite sports teams' logos, mascots, or jersey numbers. The finished product will look intentional and chic.
5. Creatively Repurposed Equipment
Purchasing brand-new furniture can quickly become more than you can afford, especially if you're already committing to something like a home theatre. Instead, you can repurpose everyday items and old equipment to give your home a touch of character.
You can turn skateboards into shelves or golf clubs into table legs. You might even showcase equipment like balls or gloves on your mantle or incorporate them into the walls.
If you consider yourself a flea market expert, you never know what you'll find at the vintage store for display. You might come across baseball cards, posters, jerseys, and even signed memorabilia.
Remember not to clutter your living space. Need tips for placing furniture? We have you covered!
6. Traditional Sports Cave
If your love for sports encompasses multiple fields, you can dedicate some space to an athletic rec room. Here, you can go big and bold, incorporating furniture like football beanbags and glass tables encasing your favourite sports memorabilia.
You can also create an entertainment system by installing a pool table or foosball machine. You can even purchase a popcorn machine or dedicate a snack station to tie the theme together.
Want to really get into the spirit? You can paint the room in your favourite team's colours or embellish them in giant decals.
7. Dedicated Game Closet
If you're sharing your home with someone who doesn't consider themselves a self-proclaimed sports fanatic, you might want to look into concealed storage for your most prized possessions. Dedicate closet space or a closed display cabinet to board games and memorabilia.
Even if you aren't actively parading your favourite sports equipment, you can rest easy knowing they have a place to call their own. Closed storage also ensures that your most valued items stay in pristine condition.
Don't forget to check the plumbing in this area before pursuing your project. Too much moisture can fade items like framed certificates or photographs.
8. Upgrade Everyday Items
If you can't afford a full-blown renovation, there are many DIY ways to incorporate your love for sports into everyday items. For instance, you can use sports-themed coffee cosies, placemats, glassware, and more.
Do you consider yourself an artist? If so, creative fixtures such as baseball diamond bulletin boards, welcome mats, and upcycled seating are easy to achieve on your own. You can purchase the necessary tools from your local craft store or repurpose items you already have.
The Bottom Line
Ultimately, there are no boundaries when it comes to renovating a sports-themed home. However, you want to prioritize class and sophistication over tacky solutions. Working with the right interior designer and incorporating unique finds can bring your renovation project to the next level.