To welcome the newest family member, parents often look for the best ideas. Decorating and designing a nursery can be an emotional experience that culminates into a convenient and cute room.
However, it is a frequent mistake to combine many themes and try to fill in every space when designing a baby room. Instead, stick to one theme in your room design such as nursery name signs and simply make it a place that will be not too bright or cluttered – a neat and contemporary nursery will always look luxurious.
Also, try to avoid cliche designs: why not go for a gender-neutral beige or pastel green palette instead of the typical blue and pink?
In this article, we included 8 excellent and affordable ideas for designing a nursery; they include transforming the walls, creating a good layout, and accessories for a child's room.
But don't strive to reach perfection at once: most of the time, it takes experience to decorate a nursery like a pro and choose the pieces in the correct order.
1. Use Natural and Safe Textures for Wall Decor
The right wall decor can make a real difference. It can be the place that catches the eye or contrasts the interior. We highly recommend that parents consider having all-natural materials in wall decor.
For example, if you want panelling, choose natural wood: this will not only make the room non-toxic but will also look timelessly elegant.
If the room is painted in calming colours, this could add a rustic touch, and even if you decide on brighter shades in more minor elements, it will not contradict the overall colour scheme.
2. Don't Be Afraid of Darker Colours
While it all depends on the taste and the vision for a nursery, dark walls designs (especially when mixed with furniture or floor in lighter shades) can make the room look very contemporary.
In the picture below, you can see how well a dark-coloured wall complements the nursery.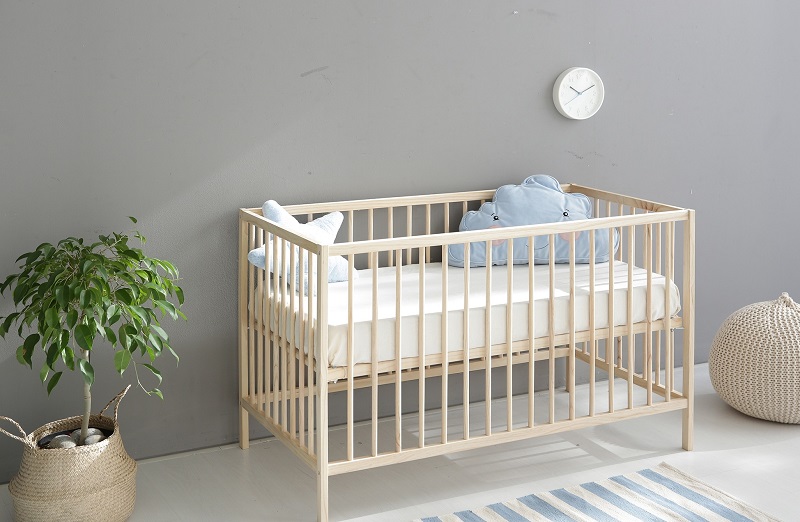 Yandell Crib. Image © FortyTwo.sg
3. Make Walls Useful – Turn Them Into A Storage Place
Shoutout to whoever created wall shelves – to parents with limited space for a nursery, this is a genius idea. Shelves can be more than just a place to keep and display a child's first library; make it brighter with photos in frames, garlands, and cool little toys.
Shelves are also an inexpensive way to create a personalized corner on the wall, and you can choose any size!
Naytto H Shelf. Image © FortyTwo.sg
4. Invest In Great Furniture
Critical furniture pieces should be chosen even before you start to think about decor, as they are the basics.
Tables, rockers, changing units, and cot beds are rich in variety these days, but it is advisable to choose themeless furniture; first of all, it will match any design, and secondly, you won't have a problem moving it to another room when there's a need.
Choose cot beds made of natural wood, which are not easily broken and have a warranty. We recommend going for furniture sets or packages rather than buying pieces individually.
5. Choose Minimalistic Accessories
With a good set of accessories, you won't spend a fortune but will easily refresh the room and add a colourful feel. This can be anything from sofa cushions, blankets, and frames to baby name signs and pictures to place all around the room.
At places like Crawoo and FortyTwo.sg, you can find a significant number of such wooden accessories, starting from personalized signs with a baby's name and finishing with wooden pictures of funny 3D cartoon animals.
Regen Wooden Wall Decor. Image © FortyTwo.sg
6. Add Potted Plants
Yes, adding indoor plants will be a good idea until the baby starts exploring everything, including these pots, but at the first stages, this is a good idea – hang pots on the walls, put them on windowsills, and the room will look healthy and refreshed. But first, look through the list of safe plants to use in a nursery.
7. Think About A Smart Room Layout
The goal is, first of all, for the room to become comfortable and match the daily routine needs and wants. It is recommended to divide a nursery into a few zones that correspond to the following purposes:
Sleeping zone
Feeding zone (needed only until the baby is done breastfeeding or bottle-feeding)
Playing zone
Changing zone
Storage zone
While there are many different ways to create these zones, you should still the basics of room layout: for example, place the cot or bed away from windows for the daylight to not interfere with your baby's sleep. Otherwise, think of good light-blocking shades.
Windows will also let in the cold in winter and heat in summer, so moving the bed away from a window could be a good idea.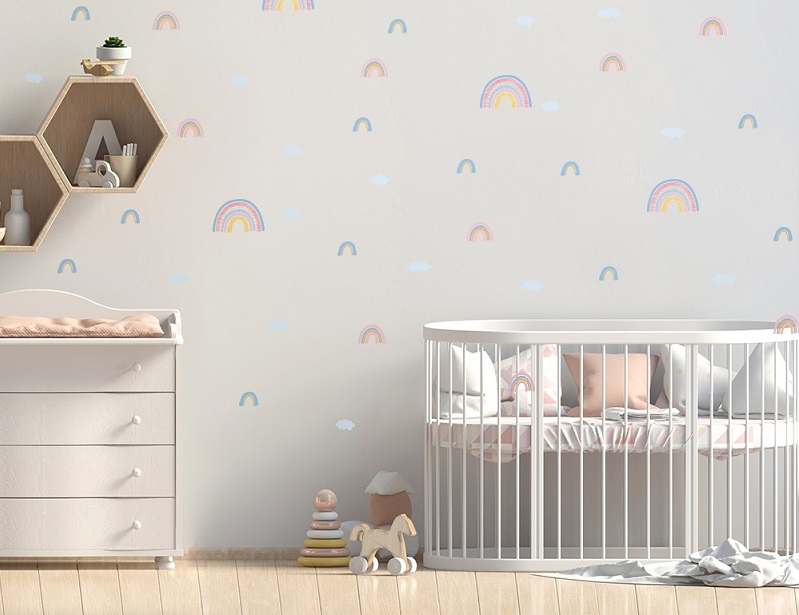 Rainbows Wall Vinyl Decal. Image © FortyTwo.sg
8. Consider Comfort in Each Zone
Try not to locate shelves very low within reach of a toddler. Since they can be unstable and fall on the baby, keep them higher.
For 'play and learn' areas, you can place a fluffy carpet on the floor for it to act as a cushion for the baby's knees when it starts to crawl. In this way, the playing routine will become safer and more enjoyable for both the baby and its parents.
Conclusion
Organizing and decorating a baby's room does not have to be a difficult task. Taking the above tips into consideration will create a highly comfortable room that you and the baby will experience every day. Just make sure you choose the right items for the nursery and go for the best quality of accessories.