On the receiving end of dripping laundry from your upstairs neighbours? Or are you finding it difficult to air dry your clothes during the rainy season? Then it's perhaps time to consider investing in a dryer. Before getting one though, read this guide to help you decide if a dryer is really for you. We also list down some of the things you should look out when shopping around for one.
Design: Couple Abode
Pros And Cons Of Having A Dryer
Having a dryer may be handy, but it isn't for everyone. Here are its pros and cons to help you make a more informed decision:
Pros
Saves time: Most drying cycles run for an hour or two, which, if you compare with air drying, is significantly much less time. This will help significantly if you have clothes that need to be laundered and dried every day e.g. uniforms.
Less clutter: A dryer is a great appliance for a compact, small home, since it will mean no more clothes line taking up your indoor space, which can be a pain if you have a really small laundry room/service yard or none at all.
Easier to dry larger items: Larger articles like your bedding and curtains can be difficult to hang up to dry, especially when wet. A dryer will make it easier to dry them.
Not subjected to weather conditions: Dried clothes even during rainy season.
Smooth out wrinkles on clothes: If you hate ironing as much as I do, you'll be glad to know that a dryer can help to ease out the wrinkles on clothes after a wash to make it easier to iron.
Design: The Local Inn.terior
Cons
Costly: Dryers aren't only just expensive to buy, they can be costly to the environment and your electricity bill as well. The costs do add up over time, so it's important to look for dryers that have more ticks. Under NEA's 5-band tick rating system, the more energy efficient an appliance, the more ticks it has. The energy efficiency for dryers is measured by energy consumption per wash.
Safety: Dryers can cause house fires as a result of lint build-up. This leads to an overheated drum, sparking a fire. In Singapore, there was a case where a clothes dryer caught fire in a nail spa shop. While the reason wasn't reported, most dryer fires happen because the filters and vents aren't cleaned as often as they should be cleaned. The best practice is to clean the filter after every load. Some machines come with an indicator after each cycle to remind you to do so.
Shorten lifespan of clothing: Pushing your clothes through dryers in the long term can cut your clothing's lifespan by half, as compared to if they were air dried. This is a result of all those heat and friction the fabric undergoes during the tumble drying cycle.
Alternatives To A Dryer To Consider
Besides a dryer, there are other appliances out there that can also dry your clothes. Consider automated laundry racks, which we've talked about at length in another article. Mounted near the ceiling, these are great for small spaces, since they don't take up any floor estate. The ones that work like a dryer come with a heater and fan, allowing you to speed up the drying process relatively quickly. They are also automated, so you won't need to manually move the rack up or down. You do, however, need to line your laundry up one by one.
Design: Salt Studio
If you aren't going to use your dryer that often or your clothes are mostly dry cleaning only, perhaps a Samsung AirDresser or an LG Styler might work for you better. We've done an extensive review of the AirDresser, but both these appliances work similarly. They are essentially steam wardrobes, using the hot vapour to refresh and sanitise your clothes, whilst also being equipped with the function to dry them. The downside to these appliances though are their high price tag and limited capacity.
Samsung AirDresser
Factors To Look Out For When Buying A Dryer
OK, so you've decided to get a dryer. What are some of the considerations to think about?
1. Capacity
Design: Wolf Woof
Go with the same dryer capacity as your washing machine if you have the habit of throwing all your wet laundry into the washer. Note that both the washer and dryer capacity that you see on the products refer to the weight of dry clothes they can hold. For those who prefer air drying half your clothes, you can get a dryer in a smaller capacity.
Most dryers available in the Singapore market are between 7kg to 10kg. As a rough estimate, an 8kg dryer works well for smaller families with approximately 3 to 4 people, and can fit in around 8 full outfits or a queen-sized duvet.
For large households that run more than a single laundry load per day, Whirlpool has a professional 15-kg capacity dryer that will get through your wet laundry quickly. If you don't have a need for a full-scale dryer, Xiaomi has a Smart Clothes Disinfection Dryer that fits about 6 items of clothing and has disinfecting properties.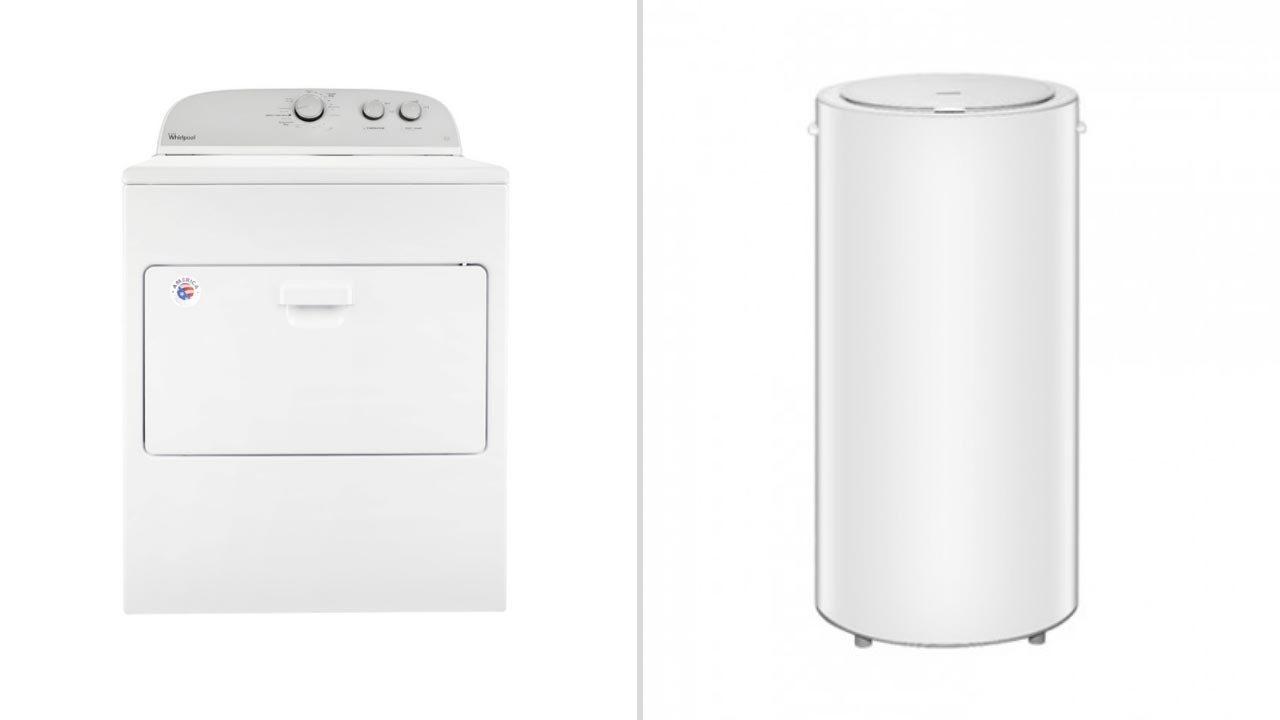 Big or small: Whirlpool has a large capacity professional dryer while Xiaomi's mini dryer works for small households.
2. Physical size and the dryer location
Determine how much space you have, depending on where you are planning to locate your dryer. Dryers (and washers) will require some clearance room. We would generally recommend a 2.5-cm clearance on all sides and at least a 10-cm clearance from the back of the machine to the wall for ventilation purposes. You'll also want to pay close attention to the manufacturer's recommendations when installing your dryer. Account for all these extra clearance space when you are checking to see if the dimensions fit.
Design: The Interior Lab
Ensure your flooring is flat and stable if you are locating your dryer on the floor. For folks who are planning to stack your dryer atop the washer (no, you cannot stack a washer atop a dryer as the washer is heavier), it's necessary to get a stacking kit that will help keep your dryer in place safely when it's in operation. Some stacking kits are only suitable for a specific brand and will require both the washer and dryer to have similar widths. If you want to take the guesswork out of the equation, consider getting a matching washer and dryer.
Fisher & Paykel's washers and dryers are designed to match.
3. Types of dryers
Turns out, dryers aren't all the same! We find out the different types available in Singapore:
Gas dryer: As their name implies, they run by gas rather than electricity. And because gas is a lot cheaper than electricity in Singapore, they are cheaper to operate, which saves you some money. This sounds great, but you do have to account for the higher upfront cost as well as the extra cost to run the gas line to where your dryer will be located. There also aren't a lot of gas dryer models for you to choose from in Singapore. City Energy, formerly known as City Gas, carries two brands, Rinnai and Elba. The former is a small-capacity dryer (6kg) that can be wall-mounted, while the latter can work as a stacking unit.
The Good: Cheaper to run
The Bad: More expensive upfront cost
Featured product: Rinnai RDT-62-SG-W Gas Clothes Dryer.
Vented dryer: These may be the cheapest dryers in the market, but vented dryers aren't very energy efficient. They work by heating up air and passing that heated air through the drum to dry your clothes. Once the hot air becomes too moist, it gets vented out and is replaced by fresh, dry air. Vented dryers will require significant ventilation (if you don't want mouldy walls), since the area where a vented dryer is located can get quite humid due to all the excess moisture that is expelled.
The Good: Inexpensive
The Bad: Causes high humidity and needs an outlet for the vent
Featured product: Electrolux 7kg UltimateCare 500 venting dryer.
Condenser dryer: Unlike vented dryers, condenser dryers don't need an external vent to expel moist air, but they do release some heat and moisture so they are best placed in a well-ventilated area. This type of dryer draws ambient air then heats up the air using a heating coil to dry your clothes. Once the hot air absorbs moisture from your wet clothes, it gets channelled back to a condenser where it is cooled down and excess moisture is collected in a tank and the remaining air gets expelled.
Featured product: Beko DCB93166W 9kg Condenser Dryer.
This method of heating air uses quite a bit of energy, so condenser dryers aren't known for being energy-efficient. And if you compare it with vented dryers, they also tend to take longer to dry your clothes.
The water tanks will also need to be emptied manually after each cycle or after the tank's full. There are some dryers though that come with a draining kit you can get, which automatically channels water out for you. But this will mean they need to be connected to a drain or a sink.
The Good: Mid-range pricing
The Bad: Not as energy-efficient as heat pump dryers and slower than vented dryers
Heat pump dryer: The most energy efficient of the lot, heat pump dryers are a type of condenser dryer. They work similarly, but unlike with the conventional condenser dryer, they reuse the air (rather than expel it) to dry your clothes. The warm, damp air passes through an evaporator where it is cooled down to extract the excess moisture into a tank. The cooled air then gets reheated, at a much lower temperature, and gets channelled back to the drum to dry your clothes.
Featured product: LG TD-H90VBD Dual Inverter Heat Pump Dryer (9KG)
As virtually no heat or moisture gets expelled, a heat pump dryer can be placed anywhere in the house. Recycling air and operating it at lower temperature levels also allow it to be more energy efficient compared to condenser units. While the lower heat helps to protect your clothes better, the drying cycles do take longer to run.
The Good: Energy efficient and can be placed anywhere
The Bad: Expensive to buy
Washer dryer: For those that genuinely don't have the space, you may wish to consider a washer dryer, which is a 2-in-1 appliance. But you'll want to note that the dryer component can only dry half the amount of what the washer can hold. So you are essentially only able to tumble dry half a full laundry load each time. This works for smaller households or for folks who don't rely on the dryer too often. But the biggest downside to washer dryers though is that if one side breaks down, both sides break down. Because of their dual functionality, a lot of homeowners have also reported that washer dryer combos tend to break down faster.
The Good: Saves space
The Bad: Can't dry a lot of clothes and must replace both appliances if one side breaks down
Featured product: Sharp ES-VD900 9/6kg Front Load Washer Dryer
4. Costs of running the dryer
Besides looking at upfront costs, figuring out how much it will cost to run annually can help determine which dryer to invest in. You can use this formula as an estimate:
Energy consumption per wash (kWh) x No. of washes performed per year x Electricity tariff ($/kWh) = Annual electricity cost
Let's compare between Samsung's 8kg Heat Pump Dryer (5 ticks) and Bosch's 8kg Condenser Dryer (1 tick) as an example.
Heat pump dryer or condenser dryer?
Samsung lists its energy consumption as 207 kWh per year, based on 156 cycles, which assumes we run a drying cycle 3 times a week. The current electricity tariff stands at 29.90 cents per kWh. This will mean we'll spend about $61.9 (207 x 0.299) per year.
Bosch lists its energy consumption as 713 kWh per year. And assuming all else is equal, we are looking at spending about $213.10 (713 x 0.299) per year. The Bosch condenser dryer therefore takes $151.20 more to run compared to Samsung's heat pump dryer. Bosch's machine however has a cheaper upfront cost at $899, compared with Samsung's $1,549 price tag.
With most dryers lasting around 8 years, we are looking at $1,209.60 worth of savings over 8 years if you get a Samsung, compared with the upfront savings of $650 if you get the Bosch. The extra money you pumped in for Samsung only begins to break even in the fourth year (assuming you run 3 loads a week for all those years).
BUT, it only makes sense to invest in a more expensive and therefore more energy efficient dryer if you use it regularly and if you plan to hold on to your appliance for the long term.
Nice-To-Have Features And Programmes
Design: The Merry Men Interiors
Look out for these if you want a little something extra.
Quiet: If you are placing your dryer near to living areas or you usually run the dryer when your young toddler is napping, you may want to invest in one that has noise dampening capabilities. Otherwise, look out for ones that have lower noise levels (below 70 dB, which is the sound of traffic) or with silent programmes.
Sensors: These are great for protecting your clothes and saving you a bit of energy. The sensors measure humidity and moisture levels in the drum, ending the drying cycle and shutting off the machine when they detect no more moisture.
Drying rack: Some dryers come with it, while some will need to be purchased separately. A drying rack is useful for drying delicate items or things like your shoes.
Adjustable door: This sound like a superfluous feature, but it really isn't and it's always good to have options. Dryers with adjustable or reversible doors allow you to switch the way the dryer door opens. This can be useful in instances when you move homes (and configurations change) or when you decide to change out to a different washing machine and don't want the doors to bang into one another.
Different dry settings: Most dryers come with a variety of dry settings. The ones that we think are pretty nifty include programmes that extract the most amount of moisture possible from your clothes so you can immediately place them inside your cupboards e.g. Cupboard Dry; settings that retain a bit of moisture in your clothes to make it easier to iron e.g. Iron Dry; as well as ones that use lower heat to reflect that of air drying e.g. Air Dry, which is great for fluffing clothes or for more delicate items that cannot take high heat.
Anti-crease/anti-wrinkle: Usually activated at the end of a drying cycle, this feature in dryers is useful for items that tend to wrinkle easily. Think clothings made from linen or cotton. We like it to prevent creasing in instances where you cannot take your clothes out immediately after a drying cycle.
Reverse tumble: If you frequently dry large items like bedding, curtains or duvet covers, this function will be useful. Reverse tumble lets the drum rotate both ways, helping to keep your laundry separated while also speeding up the drying process.
Smart features: Dryers are a little slower on the uptake of smart features, unfortunately. Still, there are models like the ones from Samsung that can be connected with their smart home ecosystem, SmartThings. By connecting your dryer with SmartThings, you get extra cycle settings as well as remote alerts that notify you when a cycle is complete.
Tips For Using A Dryer
Now that you have a better understanding of what dryer to get, learning how to use them properly can help you extend the lifespan of the machine while also allowing you to get the most out of your investment. Here are some useful tips:
Clean the lint filter regularly, preferably after every cycle. Not only is this a safety issue, dirty filters also lengthen drying time and waste energy.
Loosen and untangle your wet laundry as much as you can before throwing them in the dryer.
To better protect your clothes, do select the right drying programme on the machine.
In the same vein, sorting your fabrics based on type can result in a more consistent drying time and maximise energy use.
Don't over-dry your clothes as they will wear out fast.
To speed up the drying cycle, put in fewer clothes in the drum.
To save energy though, you'll want to put in a full load. But avoid overloading your dryer as that will cause the drying process to slow down, wasting energy.
Remove your clothes from the dryer as soon as a drying cycle ends to prevent creasing.
This article was originally posted on Renonation.sg, Singapore's leading renovation and interior design site.