Whether you are embarking on constructing a new bathroom or remodelling your existing one, deciding on the flooring material and finishes is crucial. One popular option available to you is ceramic tiles. But is it the right choice? Let's find out!
What are Ceramic Tiles?
Ceramic tiles are crafted using a mixture of water, sand, and clay. They are pretty sturdy and versatile to use. There are three primary types of ceramic tiles, namely, glazed ceramic tiles, wall tiles, and floor tiles.
Glazed tiles are primarily used for wall installations, while wall tiles' predominant usage is in backsplashes, showers, accent walls, etc. Finally, the floor tiles are used for flooring purposes.
Bathroom done by Kim Studio
Advantages of Using Ceramic Tiles for Bathroom
To understand the worth of using ceramic tiles for bathrooms, we have to weigh its pros and cons.
Low Maintenance
Ceramic tiles are easy to maintain as they do not absorb dust, dirt, or spilled liquid. A simple wiping or vacuuming can clean them off. Most of these bathroom tiles, like that of Viglacera ceramics, are stain-proof. Even if a stain sits on them, they are easily wiped off with any surface cleaner. Apart from cleaning, it does not require any maintenance.
Durability
One of the most significant advantages of using ceramic tiles is their durability. They are super-strong, abrasion-resistant, and challenging to crack. With correct installation and maintenance, they can easily last for 20 years and more. Sometimes a single tile can crack due to significantly heavy impact, but they are easy to replace.
Furthermore, ceramic tiles are available in varying hardness levels based on the Porcelain Enamel Institute (PEI) abrasion test. The rating scale is one to five. While a rating of one or two is standard for bathrooms, a higher grade is recommended for kids or increased traffic to withstand higher better wear.
Environment-Friendly
Ceramic tiles are crafted using clay, sand, and glass. They are mixed with other recycled materials as well. Surprisingly, few ceramic tiles are manufactured using only recycled materials. They are also excellent and hence, keep your house cooler. So it can help you save your energy bills and add an insulating aspect to your home.
Water-Resistant
Ceramic tiles have a protective layer on top that makes them water-proof and stain-proof. High humid conditions have almost no impact on them. They can also withstand hot and humid conditions for a much longer time. These specifications make ceramic tiles ideal for bathrooms and kitchens where water usage and exposure are significantly high.
Prevents Mushrooming of Germs
Ceramic tiles do not facilitate the growth of germs and mould as they are impervious to water and moisture. Specialized antibacterial tiles are also available for your choice. This way, it also rules out any allergy concerns.
Aesthetic Versatility
Ceramic tiles offer you plenty of choice in terms of colours, textures, styles, patterns, and sizes. You are spoilt for choices to notch up the aesthetic appeal of your bathroom and house. You will find several options that fit your bill to the tee.
Cost-Effective
Ceramic tiles are cheaper in comparison to several tiles crafted from other materials. Additionally, the advantages of ceramic tiles render them cost-effective in the long run.
However, ceramic tiles are available in a highly economical to the expensive range to suit your taste. But the benefits also keep rising with the price tag.
Higher Resale Value
Because of the various advantages of ceramic tiles, any property with its flooring and walls attracts higher pricing than other tiles. Hence, you get a distinct advantage of a higher resale value of your property that can come in handy.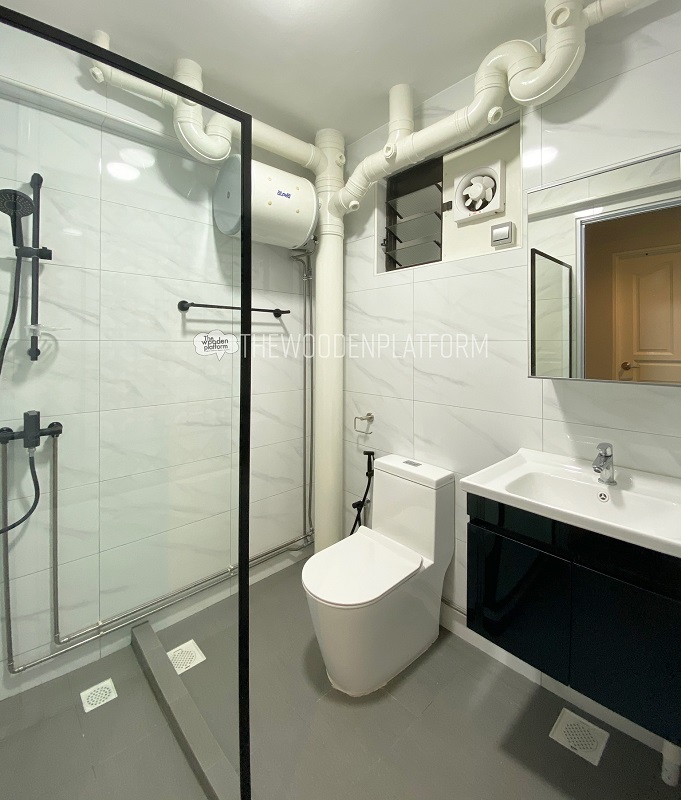 Bathroom done by The Wooden Platform
Disadvantages of Using Ceramic Tiles For Bathroom
We now walk through a few disadvantages of considering ceramic tiles for your bathroom floor and walls.
Heat Retention
We already know that ceramic tiles have negligible heat retention power. It makes the tiles extra chilly to walk on in the morning or during the winters. You are bound to feel the shock.
Hence, while it gives a great feel during summers, it is uncomfortable during the winters. Installing an underfloor heating system might be a possible solution to the problem.
Heavier Weight
Ceramic tiles are heavier in comparison to many other bathroom tile options like porcelain. This makes ceramic a questionable choice for upper stories.
Before installing ceramic flooring or walls on the third or fourth level or higher, you must consult a specialist. They would inspect the structural integrity of the building and verify if ceramic is not putting the extra stress beyond capacity.
Harder Surface
Ceramic tiles offer a rigid surface, due to which it is easy to clean and maintain. But it is also uncomfortable to stand on, especially for extended periods. Moreover, you cannot soften it using padded underlayments or cushioned underlay.
At the most, you can use throw rugs, soft rugs, or area rugs in places where it is possible.
Installation
Compared to regular tiles, ceramic tiles are more rigid and heavier. This makes its installation slightly tricky. While laying them, they must be handled with care and installed using the right equipment and by a trained and experienced professional.
Final Verdict
From the above points, we can safely conclude that the advantages of ceramic tiles for bathrooms far outweigh their disadvantages. It is a one-time investment that would reap plenty of benefits, provided you choose the right one after considering all aspects.
Renotalk is the leading home & living platform that connects a thriving community of property owners with reliable interior designers, contractors, brand owners, and product merchants who offer a wide range of home improvement education, services and deals to make the building and designing process easier, more exciting and more affordable.