One of the downsides to apartment living, whether it's in an HDB or a condo, is the lack of privacy. Having the units located literally next to each other is bad enough, but throw in a nosy neighbour that likes stealing glances inside your home every time they walk by, and it's privacy outta your window. Then there are those who experience a lack of privacy from within their homes e.g. your own kids who have no boundaries making work-from-home arrangements a complete nightmare. For folks who crave just that bit more privacy in their apartments, these tips should help you should gain back a bit of privacy from within and without.
Privacy From Nosy Neighbours
Build a foyer
So the most obvious course of action against nosy neighbours peeking in is to build a foyer that will effectively block off their line of sight into your living spaces. There are a whole ton of elements you can use to create this visual division—perforated screens, gypsum wall partitions, or built-in storage like shoe cupboards.
Below, one designer made use of old-school ventilation blocks to demarcate where the foyer is, which is absolutely genius because it means airflow doesn't get totally obstructed.
Design: Authors Interior & Styling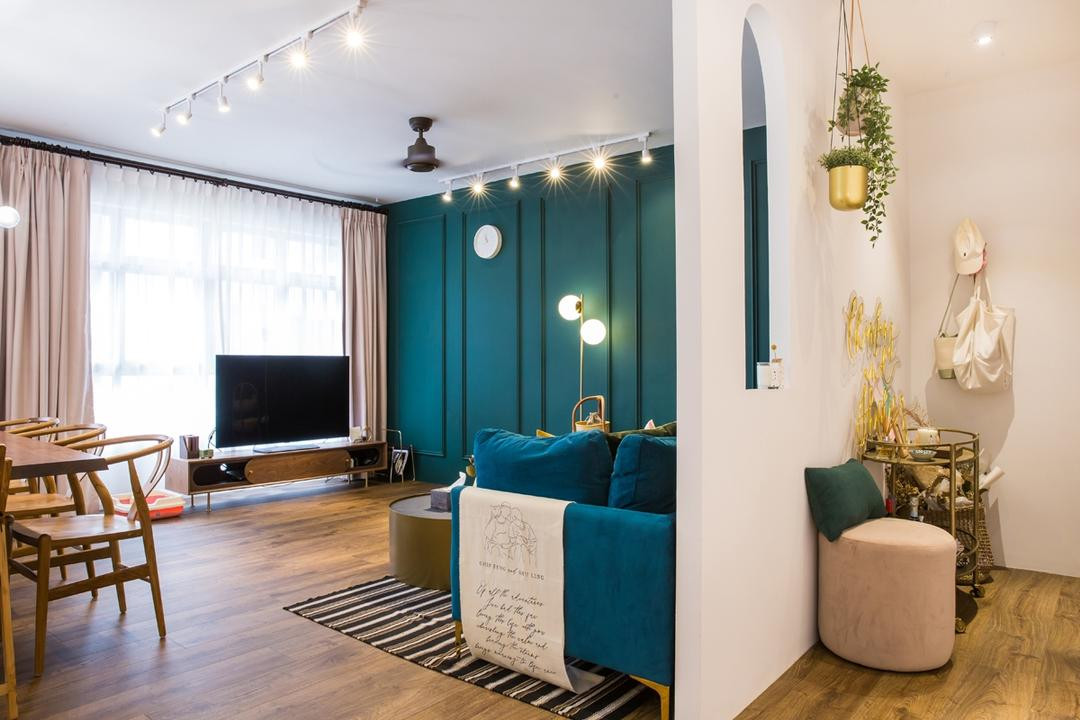 Design: Collate
» READ MORE: How to Fake a Foyer
Use the right blinds and curtains
Not all blinds or curtains are made equal, in terms of privacy. If you want more control, look out for ones that are versatile enough to offer privacy when you need it, without restricting ventilation and natural light coming through.
For those who are going with blinds, venetian and combi (aka rainbow/zebra/korean) blinds are your best bet. Venetian blinds come with individual slats that can be adjusted accordingly, while combi blinds comprise two striped layers that can be adjusted to match your privacy or lighting needs.
Design: Three Haus Works
With curtains, having day and night curtains give you more flexibility in the use of your space. Day curtains, which are more sheer, are perfect for inviting light in. Then, whenever you need more privacy, you can always draw on the night curtains.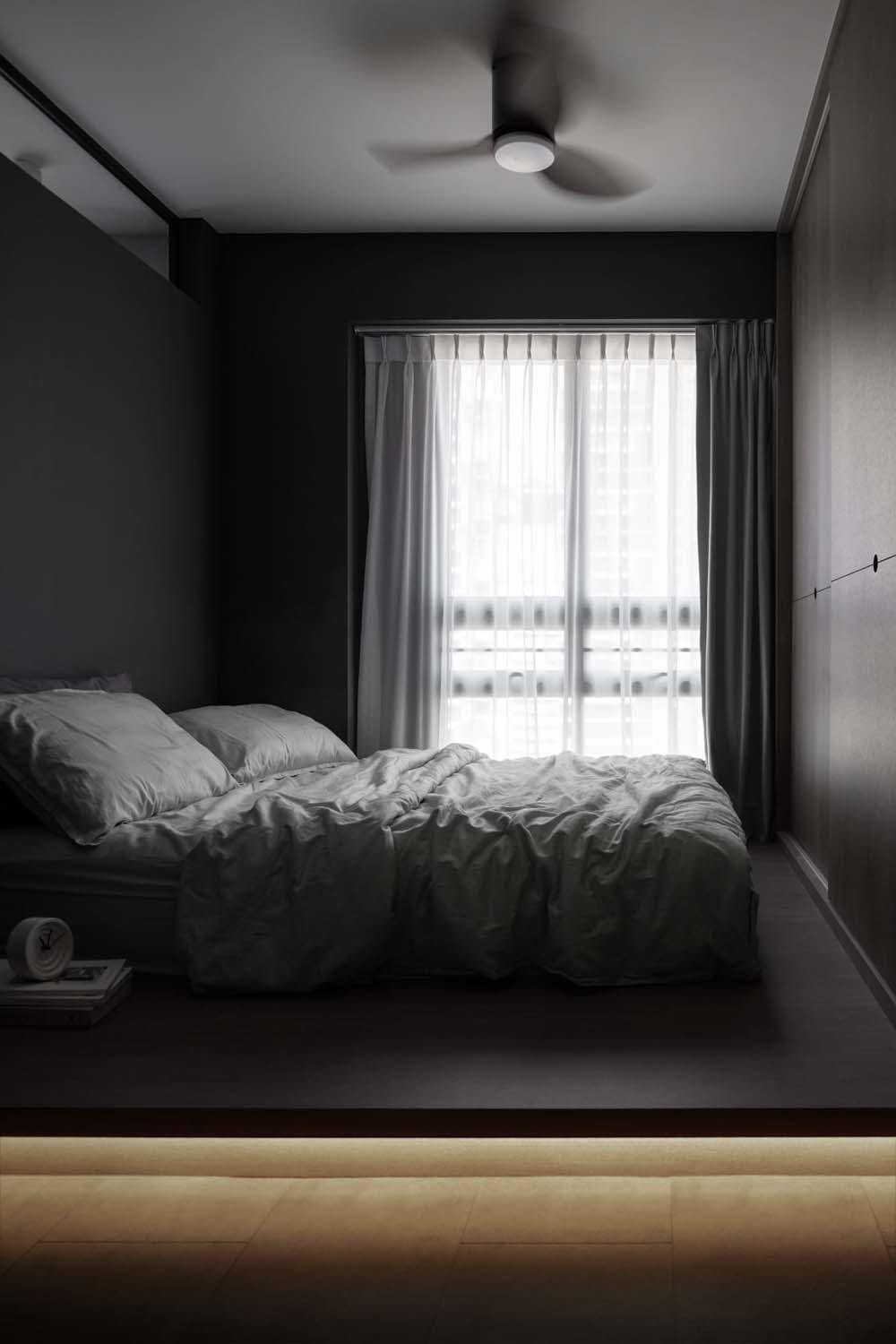 Design: Three Haus Works
Consider window films
For windows where you think curtains and blinds are a bit of an overkill, window films allow you to introduce privacy into the area without taking up extra physical space. There are several ones to choose from. Frosted ones offer privacy without blocking off sunlight absolutely, so you won't have to waste money turning on the lights even during daytime. Alternatively, there are one-way reflective (mirror) films that still allow you to maintain the view of the outside, while blocking the view into the inside for those looking in.
Design: Free Space Intent
Get the right front gate
Your front gate is a great way to set the tone for the rest of your space and selecting the right one can help to bring in more privacy to your living spaces. Find ones that feature smaller gaps between the slats or have a more tightly woven mesh design. Louvred designs are also known to help block off your neighbour's kaypoh gaze, while still allowing breeze and light to pass through. Want a more customisable option? Get a gate laser cut to your preferred design.
Design: Three-D Conceptwerke
Design: One Last Hope Interior Design
Install a CCTV
Having a CCTV installed near the entrance of your home doesn't exactly bring about more privacy, but it serves as a sort of deterrent, dissuading busybodies from snooping around the entrance of your home.
Just a note for HDB dwellers—you can't position your CCTV facing your neighbour's unit or a common corridor or common area. So make sure you get the positioning right such that it will serve as a deterrent for prying eyes and still remain legal.
Design: 932 Designs
Privacy Within Your Home
Create nooks in the house
For larger households, privacy within your own home—whether it's to decompress or to get some reading done—may seem impossible. It's important to zone out nooks amidst the open, communal areas to allow you some space away from the rest of the people at home.
The zoning doesn't have to be visually obstructive. You can use a glass divider that separates zones and functions as an acoustic barrier, but still retain that visual connection with other people in the house.
Design: Zenith Arc
Take things a bit further by going tech-free in that zone, seeing as how technology is sometimes seen as taking away our privacy. Plus, going tech-free can do wonders for relaxation.
Design: Ehka Studio
Home office separation
For those going with a home office, it's likely you would need it to be clearly separated in order to achieve some form of privacy for better focus, productivity and sanity. Having your workspace in a different room helps things tremendously, but if you can't quite afford the extra room, you can always demarcate the space using dividers.
We like storage dividers—ones that double up as storage as well as providing privacy. They are a total win for small spaces. Glass dividers are also a good way to invite light into your workspace, while retaining that necessary privacy.
Design: Square Room Interior Design
Design: Fifth Avenue Interior
Keep noise out
When it comes to managing privacy at home, one aspect of it is about reducing noise levels. Whether you are looking to reduce noise going out or to prevent noise from coming in, consider the following strategies:
In areas with high traffic and laid out in hard flooring (e.g. parquet, vinyl flooring), use area rugs to reduce the sound of footsteps.
Include textiles and soft furnishings in your space. These can help with sound absorption.
Switch out your hollow core doors with solid ones to prevent sound from escaping or entering a room.
Use a door seal.
Clad your walls (and ceiling) with acoustic panels, which are foam or fabric pieces that are designed to absorb sound. Find products with higher NRC (noise reduction coefficient) rating—around 0.7 is sufficient for residential homes—if you want better sound absorption. NRC ranges from 0.0 (no sound absorption) to 1.0 (sound fully absorbed).
Design: Hock Hoon
This article was originally posted on Renonation.sg, Singapore's leading renovation and interior design site.