Many of us live busy and hectic lives; we live a lot faster and have less time to relax and enjoy. Therefore, it's no wonder that countless people want to make their homes oases of peacefulness and calmness. One of the best ways to achieve this is to adopt a minimalist lifestyle.
Whether this trend appeals to you because of its aesthetic, practicality, or philosophy, one of the best ways to start is to design a perfect minimalist home. In addition to giving your home a distinct look, it will put you into the ideal state of mind for applying minimalist principles to other areas of your life.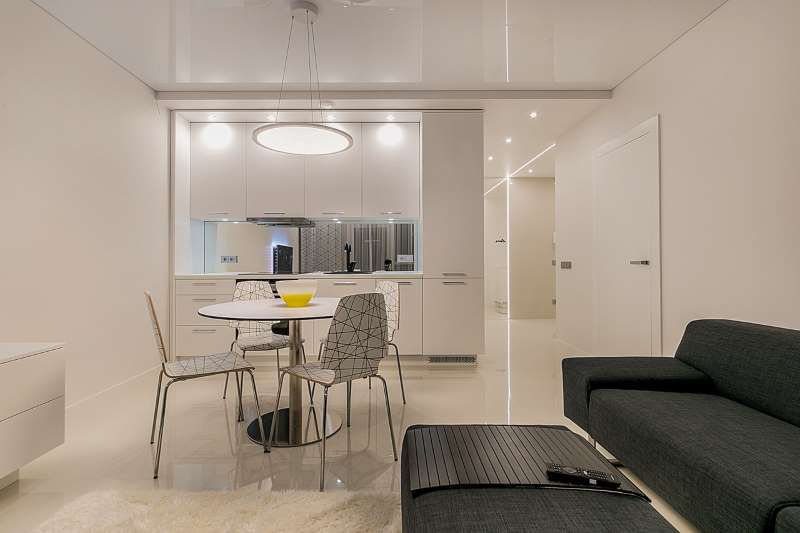 Photo by Vecislavas Popa from Pexels
What Exactly Is Minimalism?
There isn't a definite answer to this question. Minimalism means different things to different people. Some people embrace it fully, whereas others adapt it to their needs. For example, this style is perfect for home office design. The minimalist office will keep you productive and focused when working from home.
So, while it all depends on your personal preferences, there are some key characteristics of minimalist interior design. It focuses on practicality and functionality. A minimalist home is devoid of clutter and unnecessary items that only get in the way. Clean surfaces, sleek lines, and accent decorations are the staples of this style. The goal is to reduce stress and improve the quality of life.
Where To Start With Designing A Perfect Minimalist Home
Remodelling your home can be a daunting task. Of course, starting from scratch is much more manageable. If you've decided to buy a new home, it's a perfect opportunity to turn over a new leaf.
Minimize and get rid of everything you don't need and don't use. Keep only essential items and build on from there. Decluttering before the move will also make your relocation cheaper, and the Relosmart Movers crew will finish setting up your home more quickly.
On the other hand, if your goal is to redesign your current home, take it one step at a time. Don't forget that your goal is to reduce stress and create a calm, well-organized home. Trying to do it all at once can prove overwhelming. Therefore, it's best to start with one room and continue from there. Following this simple room-by-room guide will help you create a perfect minimalist home in no time.
Living Room 
Photo by Houzlook.com from Pexels
A simple design and a few choice decorations will make your living room stand out. Since the living room is the one in which we spend most of our time, it's an ideal place to start.
First of all, remove all clutter. All those sentimental knick-knacks on the shelves, useless decorations, and magazines are the first things to go. It's not easy to let go of things, so prepare yourself and be honest – do you truly need them?
Then, inspect the furniture. Do you really use all those sofas, chairs, and end tables? Keep the ones you use, and sell or donate the rest. Replace old, worn-out furniture with a few select, comfortable pieces.
Some people think that the minimalist style is bland and cheap, but that couldn't be further from the truth. It's all about quality over quantity. It's better to have one high-quality sectional than to spend money on endless couches and sofas that you never use.
Your interior design style can say a lot about you, and the minimalist home style is an excellent way to showcase your personality. One of the key characteristics of this style is the use of solid, simple colours. Light paint for walls and classy white and black, or warmer earthy tones for furniture, is an ideal opportunity to choose the decorations that will provide a striking contrast. An eye-catching piece of art or a colourful vase will add a flair and a splash of colour to your living room.
Kitchen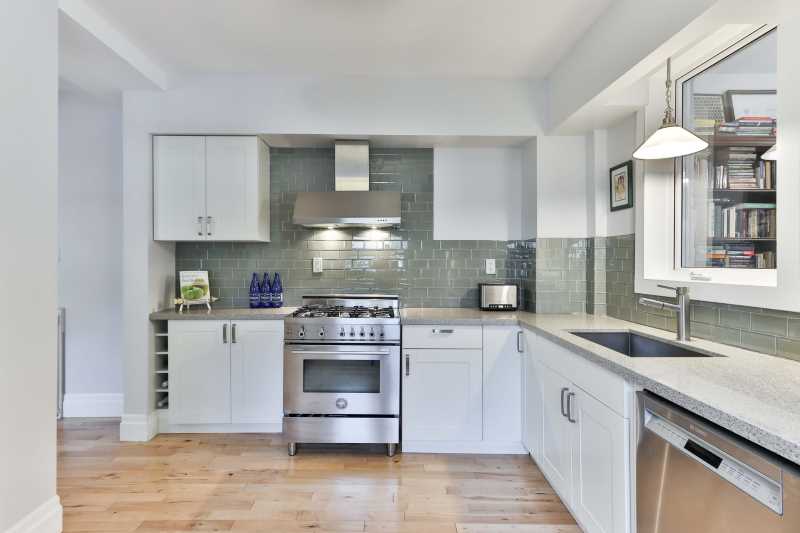 Photo by Sidekix Media from Unsplash
A functional and tidy kitchen is the key feature of every minimalist home. The guiding principle of minimalist lifestyle and home design is that less is more. Throw away all the duplicates and backup kitchen utensils and dishes you never use. Do you really need three sets of glasses and a collection of salt and pepper shakers?
Inspect the appliances. If they are old or broken, get rid of them, too. Instead, buy quality pieces (or even smart kitchen appliances) that you need and which will last you longer.
Designing a minimalist kitchen doesn't mean that it should be completely empty. However, it means that your countertops should be clean and decluttered. For example, display the appliances you often use, such as a toaster and blender.
Create storage solutions that will keep most of your kitchenware out of sight. Floating shelves or open cabinets with a few tastefully selected and arranged items are all the decorations you need.
Bedroom
The same guidelines apply to your bedroom. Minimize the furniture by choosing a few pieces that suit your style, and opt for several accent decorations.
Remove all the clutter by getting rid of the things you don't use and finding practical storage solutions for the rest. Add an antique lamp for bedtime reading on the nightstand or an artistic painting above your bed. Later, you may want to go through your wardrobe and minimize it further.
Bathroom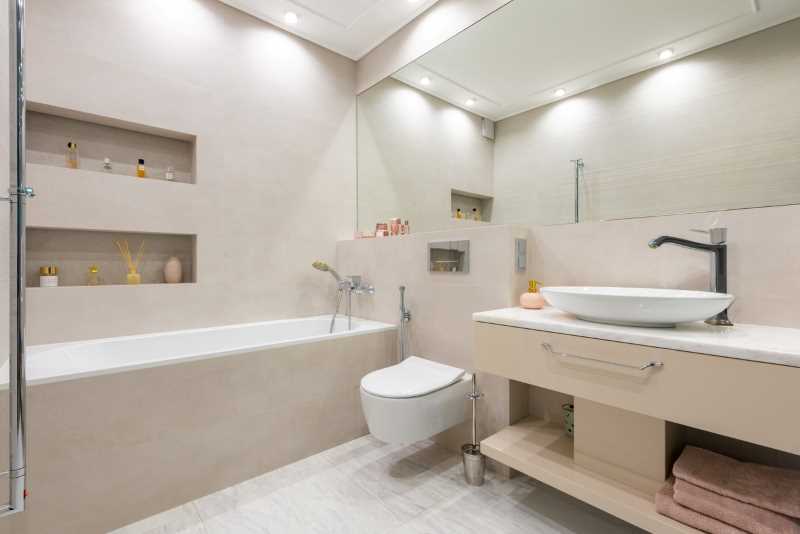 Photo by Max Vakhtbovych from Pexels
The bathroom is one of the most functional rooms in the house. The minimalist bathroom is both practical and aesthetically pleasing. Therefore, it's the easiest room to minimize.
The key to a minimalist bathroom is throwing away all the products you don't regularly use and store the rest in cabinets. It will open space and make your bathroom look bigger and tidier. No decorations are really needed, but you can pay attention to tiles and cabinets and choose simple yet effective designs and textures.
The Benefits Of A Minimalist Home
The minimalist interior design has been around for a long time, but it's becoming one of the more popular trends in 2021. It enables you to free yourself of the burden of having too many things and focus on your goals and quality of life.
A minimalist home is well-organized and functional. There aren't many things to distract and overwhelm you. In addition to that, it's easier to keep it clean, and it will reduce stress and increase productivity. What's more, it has a modern and appealing look. Finally, you will have a perfect oasis for you to relax and live your life to the fullest.
Renotalk is the leading home & living platform that connects a thriving community of property owners with reliable interior designers, contractors, brand owners, and product merchants who offer a wide range of home improvement education, services and deals to make the building and designing process easier, more exciting and more affordable.