When it comes to bathroom design, this space needs to look beautiful and have things to fulfill your specific needs. Whether you're looking into bathroom décor ideas for a child or yourself, having the right items can make spending time in this space easy.
Read on to learn how you can equip and renovate your bathroom in the best way to make it work for you.
Smart Luxury Bathroom
A luxurious, spa-like bathroom is even better with a few key smart products that make this room a luxe place to bathe and shower.
Smart gadgets for the bathroom: Voice control is a great way to turn the lights on and off, play some music, and do anything you want hands-free. Other smart gadgets for the bathroom include touchless faucets and toilets that flush without ever having to touch the handle.
Marmol tiles: This gorgeous tile provides you with the look of natural marble captured in porcelain. Luxurious and beautiful, it's also easy to clean and much more durable than many other forms of bathroom tiles.
Bidet: Install a smart bidet that offers hands-free flushing. A bidet with added features may include water temperature control, water pressure control, and even a heated seat.
Hot tub: Make soaking more luxurious with a smart hot tub. These tubs give you total control over the strength and style of the jets, water temperature, lighting, music, and more.
Sauna: Elevate your bathroom with a smart sauna to rejuvenate your body. An infrared sauna with custom lighting, smart controls, and custom seating will ensure that every muscle in your body gets heated to the perfect temperature.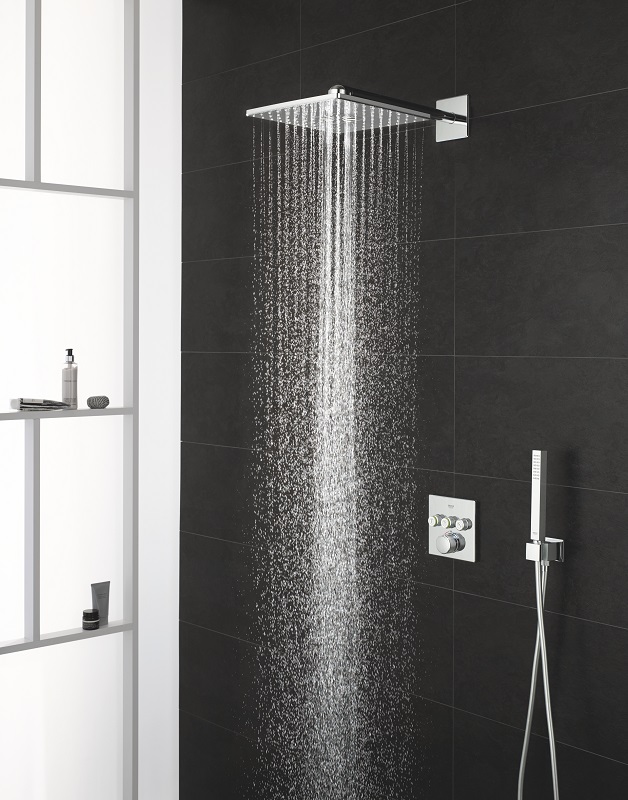 Image from GROHE / LIXIL
Couple's Bathroom
Couples can enjoy a luxe bathroom design with a few specific upgrades, such as:
Double-sided tub: Soak your cares away together with a double-sided tub featuring two sides that perfectly fit your body. Many models offer jets on each side so the individual user can control the settings.
Two sinks and vanity stations: With a double vanity and sink setup, you'll each have your own space to brush your teeth and get ready for the busy day ahead without feeling crowded.
Walk-in closet: Get more storage by adding a large walk-in closet. These closets offer tons of room to hang and store dresses, suits, shoes, and more.
Double showerheads: Make showering better by installing dual showerheads. You'll both get to enjoy a shower together while still having control over temperature, water flow, and intensity.
Separate storage for his and her: Choose some his-and-her storage, so you each have your very own space to store and organize clothing and accessories. You can add shelving to the closet or bring in a set of matching dressers for a stylish look.
Bathroom done by ExQsite Interior Design
Kid-Friendly Bathroom
Make your child's bathroom safe and enjoyable with these kid-friendly bathroom design ideas.
Kid-friendly accessories: Add an anti-scald device to prevent burns from hot faucet water. Outlet covers are also recommended in a kid's bathroom. Don't forget fun décors like colourful rugs, a lively wall colour, artwork, and a printed shower curtain.
Kids toilet: A child's toilet is lower to the ground, so it's easier for them to use it without straining or causing possible injury.
Child safety bathtub: Make the tub child-safe by adding some non-slip mats to the bottom. Install a colourful grab to make bath time even safer.
Step stool: Step stools are perfect for little ones who can't reach the sink or toilet. Make sure the stool has non-slip grips on the bottom and one on the stool top to help your child stay stable as they brush their teeth or wash their hands.
Kids vanity station: A double vanity is ideal if you have two children sharing one bathroom. Ensure it has plenty of hidden storage under the sink, so their bathroom toys and toiletries stay neatly organized.
Shower bench: A shower bench allows your child to sit down safely as they shower. This is especially helpful for younger children who are just starting to transition from baths to showering.
Consider these bathroom design ideas to help you equip this space to fit your needs. From smart hot tubs and saunas to bidets and double vanities, it's easy to transform this room and make it fit your lifestyle. Once you have everything you need, spending time in this room will be a relaxing moment you'll enjoy.