Because traditional and contemporary design features are on opposite extremes of the design spectrum, most people believe they're impossible to combine. Not only are the lines and shapes of modern and traditional places dissimilar, but the sheer amount of items in a traditional vs. modern space is completely different. While not always the case, modern interiors have a more pared-back, minimalist aesthetic. In contrast, traditional spaces have a more maximalist aesthetic, with a lot more going on visually. However, opposites attract in design, just as they do in love, and if you mix traditional and modern furniture, you can get a lovely, comfortable home as a result. To achieve this, we would definitely recommend hiring an interior designer. However, if you want to do this on your own, continue reading, and you'll find tips we've gathered from interior design pros on how to mix modern and traditional furniture.
Modern vs. traditional style in interior design
Before you can mix modern and traditional furniture, you need to understand the basis of these two design styles. You'll recognize it by its calm, orderly, and predictable nature when it comes to traditional design. Traditional homes are laid-back, with each item complimenting the others. It's all about functionality and convenience. It's characterized by vertical and horizontal lines mixed together as well as a welcoming and relaxing atmosphere. Furniture is usually made of wood with a mix of straight and curving lines.
If you use your imagination and follow a few simple rules, you can easily mix modern and traditional furniture and decor in any room in your home.
Photo by Becca Tapert from Unsplash
On the other hand, modern design is one of the most misunderstood interior design styles, with many people mistaking it for the current design. As opposed to today's fashionable contemporary styles, the minimalistic touch and lack of fussiness are distinctive features of modern design. Clean lines, neutral colors, and strongly designed furniture all come to mind. The accent is on natural light, and accessories are kept to a minimum.
If not carefully planned, combining two disparate styles could result in an interior design disaster. That's why we've consulted a team of experts who cooperates with Southeast Asia's finest interior designers and gather tips you'll find further in this article. Now let's get mixing!
Simple ways to mix modern and traditional furniture
One of the benefits of mixing traditional and modern interior design styles is that you can produce a unique and personal style that you won't see anywhere else. Unfortunately, most people are intimidated by the challenge. We admit that it is a risk, but it's also a risk with a huge payoff. Hopefully, the following tips will convince you to take it.
Choose a dominant style
When blending interior design styles, one will always be slightly more dominant than the others. Because of its cleaner lines, modern furniture is easier to use as a foundation than traditional furniture. Traditional pieces are also easier to incorporate as accents because they have more individuality.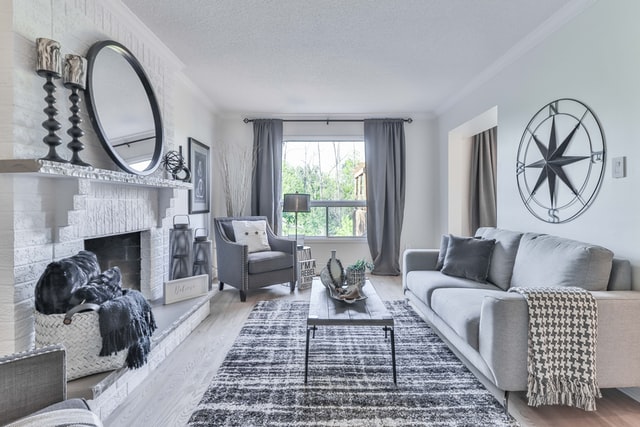 Modern furniture is much easier to combine and use as a base for the entire room.
Photo by Sidekix Media from Unsplash
Just keep in mind that you don't want to blend ultra-modern with ultra-traditional. If you keep elements in "the middle of the road" without going too far in either direction, your room will feel more balanced. This means you'll have to put away some pieces and save them for the future. Storing antique furniture is a great option as you'll always have your belongings available whenever you feel like refreshing your living space.
Use traditional accents
Accent items have the power to completely change the feel of a room, pushing it toward a more modern or traditional look. So when choosing a rug, artwork, or tabletop decor, make sure to keep this in mind. Your goal is to achieve a balance between modern and traditional. You can achieve this by giving conventional items a more modern spin and vice versa.
For example, you could go for a more traditional piece of art but lean it against a shelf rather than hanging it on the wall. Layering rugs is also a great way to give your living room or bedroom a more modern, relaxed vibe. For example, you can use a neutral woven rug as the foundation and a patterned rectangle rug on top. This way, you'll give your room additional dimension and a more contemporary feel.
Set the tone with color
Warmer, richer color palettes are used in traditional interiors, especially in those that trend toward the British style. On the other hand, modern color palettes are intrinsically more monochromatic and on the cool side of the color spectrum. Knowing this, it probably seems next to impossible to mix these two, but there are two common methods you can use:
You can use amodern, neutral color palette with historic furniture pieces. This allows the space's rich wood tones and ornate old furniture to speak for themselves.
The second approach to combining both styles is to use awarm and rich color palette with modern-lined, neutral furniture.
Play with materials and finishes
Another fantastic method to combine traditional and contemporary styles is to mix materials and textures. Go for a traditional chandelier or a retro floor lamp with metal finishes that give a modern touch. Or, add a chair with warm, worn leather that gives out a traditional feel but has modern details such as tapered legs.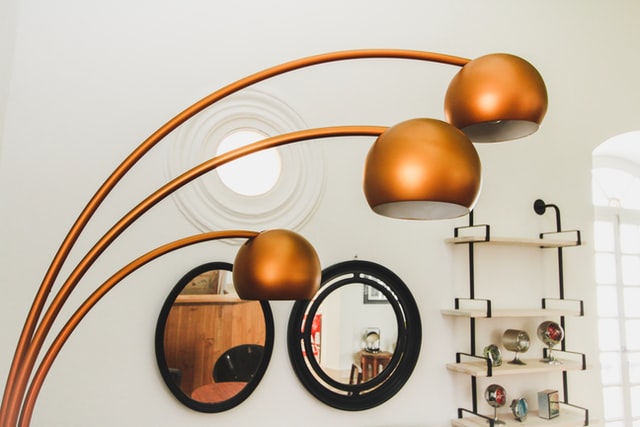 Adding traditional accessories to your most modern room or vice versa is another way to mix these two styles.
Photo by Louis Hansel from Unsplash
Consider using wood tones as well. While lighter wood tones aren't typical in Mid-Century furniture styles, walnut is a common finish in modern spaces. On the other hand, mixing wood tones is a terrific way to incorporate the heart of both designs! Our favorite fun material combination is darker woods (more traditional) with flashy metals (more modern).
The bottom line
There are many methods to mix modern and traditional furniture in a single space. All you have to do is turn your imagination on and follow a few simple guidelines we've listed above. On the other hand, perhaps mixing these two styles isn't something that you see yourself doing, and maybe some other style or a different mix would be a better option for you. After all, you want to be able to express your personality and create a space where you enjoy spending your time. But don't worry—there are plenty of expert interior design tips available for you, so we're sure you'll think of a perfect home design in no time. Or, you save yourself from any trouble by hiring professionals to do this for you. We wish you the best of luck and a lot of fun during the process, no matter what you decide!
Renotalk is the leading home & living platform that connects a thriving community of property owners with reliable interior designers, contractors, brand owners, and product merchants who offer a wide range of home improvement education, services and deals to make the building and designing process easier, more exciting and more affordable.