This is the time where pastels are simply creeping into the spotlight, especially where interior designing is concerned. They are once again ruling the home décor scene, and this time they are popular in the kitchen.
Ice-cream-like pastel hues are now considered stylish in modern kitchens. They have the power of lifting the mood of almost any area instantly while adding a playful feel to the kitchen.
If you are thinking of bringing a sense of cool and calm into your cooking space while also offering a cosy and stylish touch, then go through these attractive design ideas to use pastels.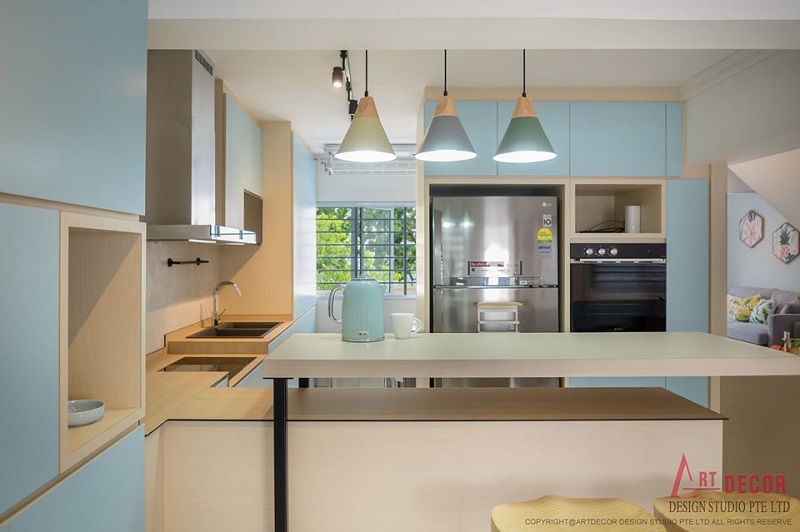 Kitchen done by ArtDecor Design Studio
What about Lavender Cabinets?
Confused about painting the kitchen walls in pastels? This can be quite a challenge, especially if you are using the palette for the very first time. To conquer that fear and take a risk, why not have your hands on laminating the cabinets first?
Going for lavender cabinets will be a lot safer and also one of the most beautiful ways of incorporating colour in the kitchen area. It does not really matter whether it is a traditional kitchen or one in modern design. Just a bit of lavender, and it will surely bring a sense of calm into the space.
You can go for a bit of fun in design by either getting an entire set of kitchen cabinets or just one side of the kitchen cabinetry in light lavender. This will go a long way in keeping the tone of the kitchen exciting and breezy.
Highlight Exclusive Features in Pastels
How about using pastels for creating a key feature point in the kitchen? That will be an amazing idea! Simply by bringing in pastels within certain key areas, you can effectively focus on that part of the kitchen and show it off in style.
Be careful in choosing the area where you want to incorporate this idea. The best is to go for an area that you think calls for the most attention and limelight. Once you are done with the choice, transform the space into an attractive pastel feature point.
You can also make the kitchen island the focal point of the space by selecting a powder-blue pastel hue in combination with pink for a playful and fun element.
Inversely, you can also create an exclusive pastel feature by going for coloured tiles. This helps in creating a kind of splash-back effect when used just behind the sink or oven area.
Amalgamate Pastels with Different Luxe Materials
If you want to give your kitchen a sophisticated appearance, then one great idea will be to mix pastel colours with various luxury materials. This idea will surely help you in creating a stunning and elegant appearance.
Another good design idea is to team up pastel units with granite worktops! You can also mix chalky shades with some of the most opulent textures to create a sophisticated and exclusive setting.
Go for statement-making kitchen cabinets in some of the boldest shades of pastel while keeping the rest of the kitchen in natural materials and neutral shades.
For those looking to take their kitchen's luxurious appearance to a completely new level, it would be great to use a bit of copper here and there.
Pick any of the above ideas, and it will surely heighten the exclusiveness and the glamour of your kitchen!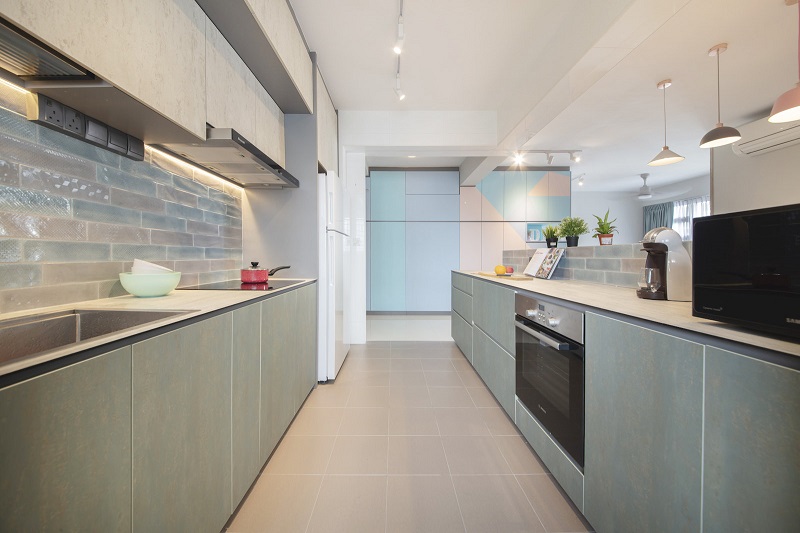 Kitchen done by The Safe Haven Interiors
Using Pastels Up and Above
This is one of the sleekest ways of including pastels in the kitchen without disturbing or changing the overall appearance of the space. Simply use the space between the top kitchen cabinet and the ceiling, and this will create a kind of border for the area, giving it a fully organized appearance.
You can even paint the ceiling with colour blocks or stripes to set the mood of the space effectively.
Colour-Blocking for Creating a Wow Factor
When it is about using pastel colours to upgrade the look and feel of the kitchen area, there are many creative ways of doing this. You can use different shades of pastels in a colour-blocking effect in the kitchen.
Go for cabinets in dual shades of pastel or style varied pastel tones on walls using tiles and paint. Try creating the right balance by using equal measures of two pastel colours.
Or you can even choose just a single dominant hue and go for another contrasting shade for highlighting the feature point of your kitchen.
Here's a handy tip for using the colour blocking method with pastels; style the remaining part of the kitchen space in different neutral shades and allow the pastel tones to take centre stage.
Go for different pale shades such as white and grey, as this will help soften the effect to make the area feel relaxed and look stylish.
Steal the Show with Pastel Furniture
Doesn't this sound interesting? If you have the kitchen walls painted in peach, why not accentuate this look with mint-coloured chairs or a black dining table? This will surely give your entire space a modern, trendy and classy appearance.
In this modern age where aesthetics play an important role, pastels will help accomplish that without putting in any effort. Going for furniture in pastel shades is not just a great investment but also one of the best ways to accentuate the look of the kitchen.
Furniture in pastel colours blends well in almost any environment and even complements both dark and light shades.
Use Lilac for a Quirky Effect in the Kitchen
Lilac is one of the greatest ways of livening up the kitchen space while also offering it a whimsical touch. Dark wooden worktops are great at complementing lilac cabinets. They look just beautiful and also create a striking contrast.
Lilac cabinets also go well with white worktops for those looking to create a kind of pop-art effect.
Final Thoughts
When it comes to using pastel colours for decorating the kitchen, it all depends on the décor of the home and the design of the kitchen. You will have to make an informed decision here by pondering how you want your kitchen to feel and appear.
A brightly coloured kitchen featuring cotton candy hues will give a summer feeling, while mint and peach combinations will offer it the feeling of spring. It's all about striking the right balance of functionality and aesthetics.
Renotalk is the leading home & living platform that connects a thriving community of property owners with reliable interior designers, contractors, brand owners, and product merchants who offer a wide range of home improvement education, services and deals to make the building and designing process easier, more exciting and more affordable.